James Bond•O•Rama.dk got an exclusive one-on-one interview with George Lazenby, when the 76-year old former 007 star visited Oslo in Norway on Thursday 1 September 2016.
● Read part one of the George Lazenby career interview (the 1970's)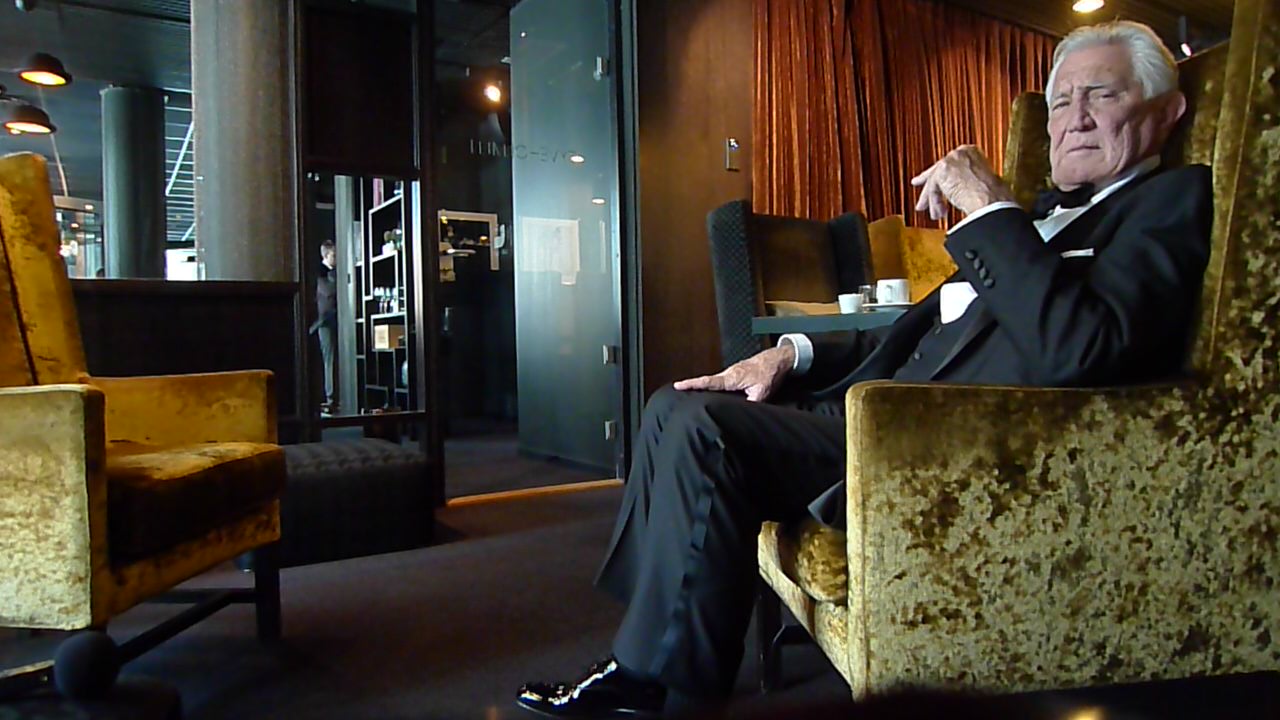 While in Oslo, George Lazenby was the guest of honor at a 4K gala screening of his only performance as James Bond 007, "On Her Majesty's Secret Service". This marked the first time since the film's world premiere in 1969 that George Lazenby sat through the film from beginning to end. When he was asked afterwards what it felt like watching his 29-year old self playing James Bond on the cinema screen, Lazenby promptly responded:
"I wish I had done it better!"
---
INTERVIEW WITH GEORGE LAZENBY
PART TWO: THE 1980'S AND BEYOND
By Brian Iskov, Oslo 01.09.2016
Bond•O•Rama (Brian Iskov): "On Her Majesty's Secret Service" is my favorite James Bond film.
George Lazenby: Well, you have good taste.
Bond•O•Rama: But you have 60 other credits in your filmography that people rarely talk about.
George Lazenby: Oh yeah. They never talk about 'em.
Bond•O•Rama: So I thought that's what we're gonna do.
George Lazenby: Oh, if I remember them.
"The Return of the Man from U.N.C.L.E.: The Fifteen Years Later Affair" - "J.B."
(TV movie, 1983, dir.: Ray Austin)
In 1962, the creator of James Bond 007, Ian Fleming, helped devise the concept that would eventually become "The Man from U.N.C.L.E.". This light-hearted spy caper ran from 1964 to '68 on NBC and was one of the more succesful Bond rivals, spawning a spin-off series ("The Girl from U.N.C.L.E."), a comic book, a series of novels and several theatrically released films along the way.
After a 15-year hiatus, the original stars of the show – Robert Vaughn as playboy agent Napoleon Solo, David McCallum as Russian sidekick Ilya Kuryakin – reunited for this one-off TV movie. It's a mostly silly affair (though not quite as bland as Guy Ritchie's theatrical reboot from 2015 starring Henry Cavill and Armie Hammer).
During a middling car chase through the streets of Las Vegas, Napoleon Solo is unexpectedly helped out by a dapper British colleague, who wears a white tux and drives a tricked-out Aston Martin DB5 with rocket guns and a personalized license plate that says "JB". George Lazenby even gets to utter the line "Shaken, but not stirred", and Solo's Russian lady friend coos: "It is just like 'On Her Majesty's Secret Service'". All very on-the-nose and tongue-in-cheek, but Lazenby looks great and seems to be having a whale of a time.
Bonus Bond trivia Anthony Zerbe (Milton Krest in "Licence to Kill", 1989) and Patrick Macnee (Sir Godfrey Tibbett in "A View to a Kill", 1985) co-star in "The Return of the Man from U.N.C.L.E.".
Bond•O•Rama (Brian Iskov): You did kind of play James Bond again after "On Her Majesty's Secret Service", when you appeared as JB in "The Return of the Man from U.N.C.L.E.". You looked like you were enjoying yourself.
George Lazenby: I was. That was a friend of mine, Mike Sloan, directing it [Michael Sloan was the writer and executive producer]. I forget the actor that was on there, but ...
Bond•O•Rama: Robert Vaughn?
George Lazenby: Yeah. He didn't wanna know about me, heh-heh. No leading actor wanted me on their movie in those days. Because I was hardcore, you know. Real. Most of them were ... wimpy.
[See also "Hawaii Five-O" in part one of the interview.]
"The Return of the Man from U.N.C.L.E." is available on Region 1 DVD.
The Last Harem - "HRH Prince Almalarik Mubarak Ben Saïd"
(L'ultimo Harem, 1981, dir.: Willy S. Regan = Sergio Garrone)
Creative casting alert: In "The Last Harem", George Lazenby stars as an American-Arabian prince (!) who keeps his harem on a tight leash (actual dialogue from the film: "Here, I am the law!"). When the concubines conspire to kill his favourite wife, played by Corinne Clery (Corinne Dufour in "Moonraker"), Prince Almalarik sees the error of his ways.
At the age of 42, George beds a bevy of beautiful babes throughout – hardly a stretch for him – and looks handsomely matured in the leading role, but with "The Last Harem" being an Italian-German-Spanish co-production, he is once again badly dubbed by some random American dude. The direction shows some pretence towards artfulness, but it's hard not to snigger at all the soapy goings-on and randomly inserted soft-focus erotica in this amusingly kitschy concoction.
Bonus Bond trivia: George Lazenby is seen driving an Aston Martin Lagonda at the 33 minute mark.
Bond•O•Rama: I read a story that during the production of "The Last Harem", you met Arnold Schwarzenegger, who was shooting "Conan the Barbarian" in Spain at the time. And then you picked a fight with him in an elevator. Is that right?
George Lazenby: No, that's not true. I've never picked a fight with him. I mean, we were kind of related there for a while when I married Pam Shriver [tennis champion and cousin of Arnold's wife; Pam and George married in 2002 and divorced in 2008]. Arnold and his [then] wife [Maria Shriver] used to send out gifts. That's the last I heard of Arnold. Now that they're divorced, I don't see him anymore.
Hell Hunters - "Heinrich"
(1986, dir.: Ernst Ritter von Theumer senior)
In this fairly obscure 80's action-adventure, George Lazenby plays Heinrich, the right-hand man of an aging Nazi scientist (ripe old Hollywood ham Stewart Granger) who's hiding away somewhere in Brazil. As a further incentive for Bond fans, Granger's grown-up daughter is played by the gorgeous Maud Adams (Andrea Anders in "The Man with the Golden Gun"; the eponymous "Octopussy"). Though first-billed, Adams pulls a Janet Leigh and checks out 26 minutes in (oops ... spoiler), ceding the spotlight to two mismatched investigators doing a riff on "Romancing the Stone", leading to some extremely strained banter and one gloriously ridiculous sex scene beneath a waterfall.
"Hell Hunters" is surprisingly tame by German schlockmeister Ernst R. von Theumer's standards, but it's dumb fun nonetheless. Our George is more or less reduced to a piece of furniture; he barely has any lines and just stands around, until his character is sent off to Los Angeles, never to return. At least he got to be around Maud Adams again ...
Bond•O•Rama: You've worked with quite a few other Bond actors during the years, such as Maud Adams in "Hell Hunters".
George Lazenby: I love her, yeah. I knew Maud on a TV commercial we did in Venice ... No, it wasn't Venice, another place up there in northern Italy. And we fell in love. But she was in New York and I was in London after we left, and we didn't see each other again for years. I got a lot of respect for her, she's a true spirit. She's a true lady. Yeah, a good person to be around.
"Hell Hunters" is available on Region 1 DVD.
Never Too Young to Die - "Drew Stargrove"
(1986, dir.: Gil Bettman)
"Special Guest Star" George Lazenby is once more cast solely for his Bond connection in "Never Too Young to Die", a ridiculous but fitfully energetic piece of 80's action cheese and a true VHS cult item. He is Drew Stargrove, master spy and absent father of college athlete Lance Stargrove (man, those names!). Double-crossed on a mission by a fellow agent who's really an evil hermaphrodite (!) planning to contaminate the US water supply (!?), Lazenby buys it after only 18 minutes.
Cue Stargrove Junior (John Stamos in his feature debut) gunning down loads of people in an R-rated rampage of Reagan-era teen wish-fulfillment. Stamos is on record calling the film "a piece of shit", but at least it's knowingly silly. Also, "Never Too Young to Die" features an unforgettably camp seduction scene between Stamos and Vanity as well as a truly bizarre performance by KISS singer Gene Simmons, chewing the scenery like there's no tomorrow as Ragnar the hermaphrodite ("half man, half woman?", someone helpfully inquires).
Bond•O•Rama: I have to ask you about "Never too Young to Die". It has gained a bit of a cult following, especially Gene Simmons who played the villain, Ragnar the hermaphrodite.
George Lazenby: Yeah, I can barely remember that. I remember Gene Simmons.
Bond•O•Rama: He played a dual role, and you were acting opposite the less flamboyant Gene Simmons in your scenes.
George Lazenby [brushing it off]: It's a long time ago. Heh, heh.
"Never Too Young to Die" has only been released on VHS. A copy can be found on YouTube (link).
Hunter: Future Cop - "General Bullmount"
(2015, dir.: Gregory Hatanaka)
From the category "so bad it's good" comes "Hunter: Future Cop", which does not take place in the future but does feature a cop named Hunter. He's a formerly abused orphan, now a sleepy-eyed, morally ambiguous cop juggling three tough cases while wandering around L.A. dressed in black and spouting psycho-babble bullshit, cod philosophy, feminist rants and Edward Snowden-bashing like some kind of self-help cowboy preacher with a Miles Davis complex. He even goes out into the desert to express his inner turmoil by playing his trumpet. Meanwhile, a lonesome saxophone wails on the soundtrack.
Writer-producer-star Ron Becks bears the blame for this mesmerizingly poor and disjointed Grade Z movie which challenges "The Room" for sheer deluded ambition, laughable acting and porn flick production values with greenscreen work so glaringly obvious one suspects it's meant as parody.
Poor George Lazenby has two early scenes as a scowling general sitting next to a bank of fake-looking, switched-off computer equipment. He's set up to be the main villain, but then disappears altogether with no explanation. Just as well: This is quite possibly the worst film George has ever appeared in. Maybe that's why he seems to have erased it from his memory.
Bond•O•Rama: Your last film was "Hunter: Future Cop".
George Lazenby: What?
Bond•O•Rama: "Hunter. Future Cop".
George Lazenby: No, I don't know that one either.
Bond•O•Rama: A guy called Ron Becks did it.
George Lazenby: Did I do that?
Bond•O•Rama: You have two scenes in it as a general Bullmount at the very beginning, and then you disappear.
George Lazenby: Is this a comedy?
Bond•O•Rama: No. Not intentionally, anyway.
George Lazenby: Hm. Got me on that one.
"Hunter: Future Cop" is available on region-free DVD.


BONUS FILM
(QUOTES TAKEN FROM GEORGE LAZENBY'S Q&A AT VIKA KINO, OSLO 01.09.2016):
Gettysburg - "Brigadier General Johnston Pettigrew"
(1993, dir.: Ron Maxwell)
Next to "On Her Majesty's Secret Service", George Lazenby's biggest film in terms of scale is surely "Gettysburg". This massive, and massively star-studded, re-enactment of the decisive 1863 battle of the American Civil War was originally produced for Ted Turner's cable network TNT, though it did get theatrically released in some territories, including Denmark.
Around the three hour mark in this somewhat interminable, albeit impressively mounted epic, Lazenby strides into frame as Brigadier General Johnston Pettigrew, sporting a slight accent and a stubbly grey beard (for once, his facial hair is greatly outmatched by the rest of the cast). It's only a three minute cameo, but it is great to finally see George Lazenby doing good work in a proper prestige picture.
George Lazenby: They asked me, "Can you do a Southern accent?", and I said, "Yeah, okay. G'day mate." "No, that's Australia." And then I said, "Aahm from Daaahn Sawth. My name's general Pettigrew from Naaawth Carolina Univeeehsity." And then a guy comes up to me and says, "You're doing Northern [Carolina]. You're gonna do Southern". Of the same state! I'm saying, "What the hell?"
– Then I did that, and I met Ted Turner, who was financing the film [for TNT, Turner Network Television]. And [his then wife] Jane Fonda, who I used to run into all the time. I knew her before, when I was a male model in Paris [in the 1960's]. I used to bring different models to parties all the time. Who was the guy she was going out with, the film maker?
From the audience: Roger Vadim!
George Lazenby: That's right, Roger Vadim. He got Jane to come over and chat me up, so that he could chat up the girl I was with. She's saying, "It's a lovely suit you've got on" and all this, and I'm thinking, "It's the worst fucking suit I've got in my whole wardrobe. Why is she saying this?". And then I got the picture. Vadim was chatting up this beautiful model that I brought along to the show, because you worked with a different model every day, and you'd say, "I'm going to this party with Jane Fonda and Roger Vadim", and they'd say, "Oh, I'll come".
"Gettysburg" is available on Region 1 DVD and region-free Blu-ray (Director's Cut).

MORE LAZENBY AT BOND•O•RAMA.DK:
● Bond•O•Rama meets George Lazenby, part 1 (Malmö 2014)
● Bond•O•Rama meets George Lazenby, part 2: "James Bond in Oslo" (2016)
Special thanks to Morten Steingrimsen.