NOVEL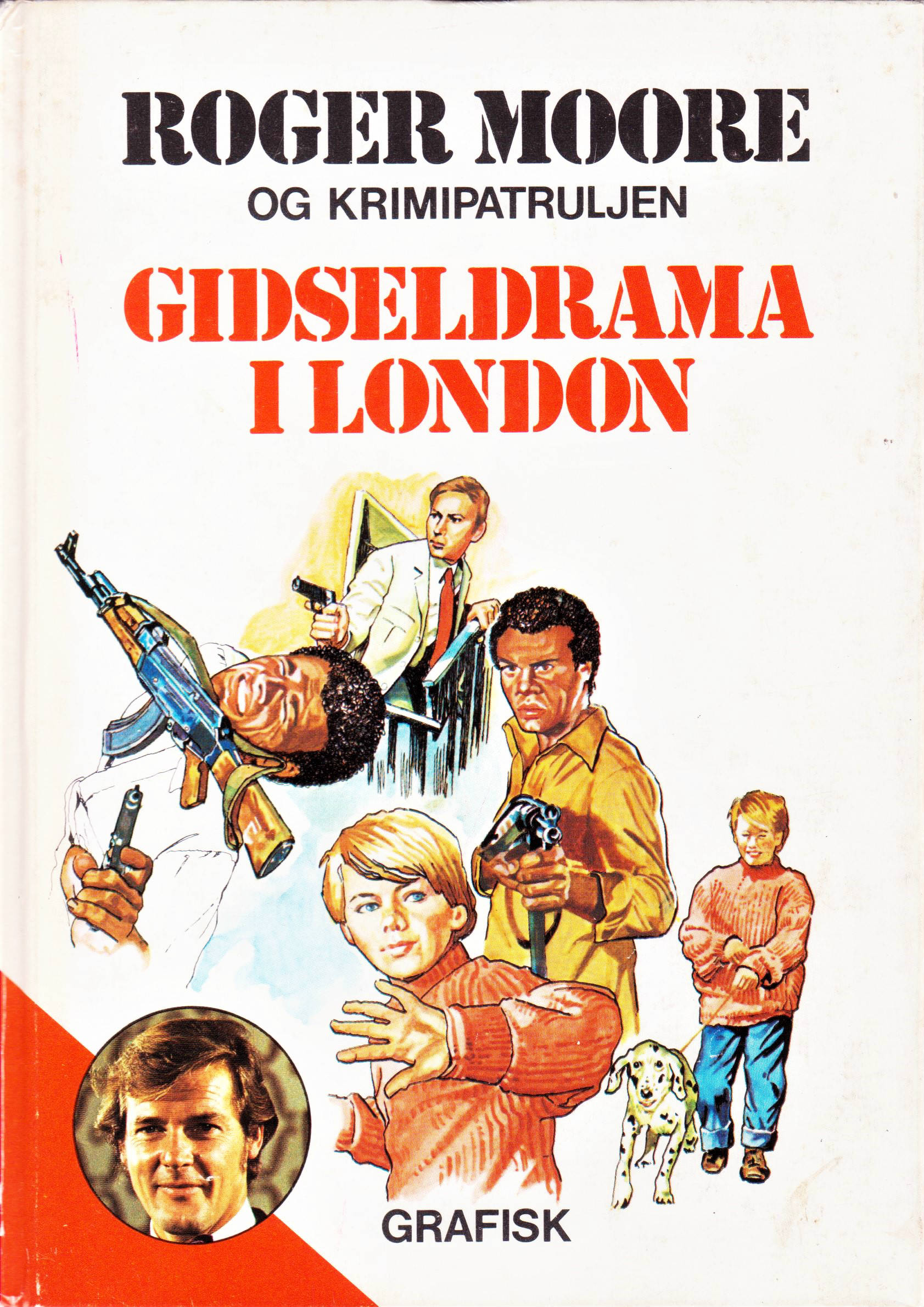 Roger Moore og Krimipatruljen 1: Gidseldrama i London (1978)
David Fleming (= Malcolm Hulke)
Danish first edition
Original: Roger Moore and the Crimefighters – The Siege (Everest Books 1977)
Publisher: Grafisk Forlag
Release date: 1978
Translator: Vivi Berendt
Cover artist: Ernst Køhler
Layout: Birgit Lerstrup
Format: 128 pages, hardcover
Also published as an eight-part serial in the weekly comic magazine Tempo no. 46/1978 to 1/1979 (Gutenberghus)
At the peak of Roger Moore's succes as James Bond 007 around the time of "The Spy Who Loved Me" in 1977, the actor lent his name and visage to a literary spin-off which has since been all but forgotten.
"Roger Moore and the Crimefighters" (Danish: "Roger Moore og Krimipatruljen") was a series of young adult crime novels originally published in the United Kingdom by Alpine/Everest Books in 1977. Five of the six installments were released in Danish translations by publishing house Grafisk Forlag from 1978 to 1980. Although each book had a different author, all the Danish editions are credited to "David Fleming":
● 1. Gidseldrama i London [Hostage Crisis in London] (The Siege, 1978)
● 2. Spioner til søs [Spies at Sea] (Crook Ahoy, 1978)
● 3. Jagten på narkohajerne [The Hunt for the Drug Lords] (The Anchor Trick, 1979)
● 4. A/S Butikstyveri [Shoplifting Inc.] (One Thousand and One Shoplifters, 1980)
● 5. Døden går i cowboybukser [Death wears Denims] (Death in Denims, 1980)

The obvious precedent was "The Three Investigators" (1964-83, Danish title: "Alfred Hitchcock og de tre detektiver"), a popular series of American crime novels for children. In each book the iconic British thriller director Alfred Hitchcock made a short cameo appearence as a sort of mentor to the young leading characters.
This same gimmick was re-used in "Roger Moore and the Crimefighters" which does not actually star Sir Roger but follows three nosy London kids who invariably end up thwarting some sort of crime. Roger Moore appears fleetingly in the first book, "The Siege" (Danish: "Gidseldrama i London"), on page 107 (out of 128) and again in the epilogue.
BBC has invited the meddling kids – Bonnie, Bill, and Darren – into the studio after they have involuntarily helped the police unravel a hostage situation on an African embassy in London. As luck would have it, the famous Roger Moore (described as a tall and "very handsome" man) is working at the BBC that day and takes the time to express his admiration for the children's crimefighting achievement:
"So I've got an idea to form a club called the Crimefighters for kids like you. Do you mind if I pull up a chair and tell you about it?"
- Roger Moore as Roger Moore in "The Siege"