EVENT
On Friday 07.07.2017, Tivoli Copenhagen Phil performs "The Hunt for 007 - an Evening with James Bond" at Tivoli Concert Hall in Copenhagen. James Bond•O•Rama.dk attended the first rehearsal and interviewed the conductor, Adrian Prabava.

The iconic date 07.07.2017 has inevitably given rise to several James Bond 007-themed events in Copenhagen. On this very Friday, Tivoli Concert Hall presents "The Hunt for 007 - an Evening with James Bond" as part of Tivoli's annual music festival SommerKlassisk.
Indonesian-born German conductor Adrian Prabava will be conducting the Tivoli Copenhagen Phil (formerly known as Tivolis Symfoniorkester) in a full programme of music from the James Bond 007 films. The programme was provided by European FilmPhilharmonic Institute.
At the initial rehearsal that James Bond•O•Rama.dk was invited to on Tuesday 4th July, The Tivoli Ensemble and vocalist Pernille Rosendahl were not yet in attendance. The Tivoli Ensemble will support the orchestra with drums and electric instruments at the concert; they might also fill in the iconic guitar riff (if Prabava so chooses) during the "James Bond Theme". Rosendahl, who is slated to sing four songs, has previous Bond experience from her band Swan Lee whose single "Tomorrow Never Dies" in 1997 was a contender for the title theme in the eponymous film.
During rehearsal, the conductor and the orchestra go through the entire programme for the first time. Prabava halts the music several times in order to fine-tune specific note lengths and polish any rough corners. Part of Michael Kamen's "Licence to Kill" score is repeated for string section only and then with strings and woodwinds until Prabava is satisfied with the result. It is like hearing the familiar 007 soundtracks being remixed and deconstructed live.
The percussionist gets a proper workout during Thomas Newman's busy action cues from "Skyfall". Afterwards, Adrian Prabava describes this suite as the "most challenging" part of the programme. The orchestral sound will be overdubbed with live synthesized effects and timed exactly to the sound effects in the accompanying scenes from the film which will be shown on a screen behind the musicians. Furthermore, modern composing for films is generally more complex than in the 60s, says Adrian Prabava.
"You can tell that film music has developed a lot the last ten years. Orchestral writing for cinema is getting more specialized, with greater possibilities of sampling and using the orchestra. There is kind of a new genre of composing for film, and this is also an aesthetic you can hear in "Skyfall"."
The disparity between Thomas Newman's hectic contemporary score and the luxurious, pop- and jazz-inflected John Barry sound from the sixties is particularly apparent when performed in direct sequence. Adrian Prabava senses that the melodic style of film composing might be coming back, though:
"Nowadays, if I listen to contemporary pop music, many pieces don't have this depth of composition we used to have in pop music in the 60s. I'm talking about harmony, about rhythm. Very often is it reduced to a simple rhythm and bass, with a lot of repetition, less melody. This is the music of our time. So this is reflected in the movie compositions as well. Many people go home without being able to sing along to what they heard in the cinema, it's very rare now. I think there is a turning back, with musical films like "La La Land", this longing for the ... emancipation of melody, going back to the fullness, a full-bodied composition."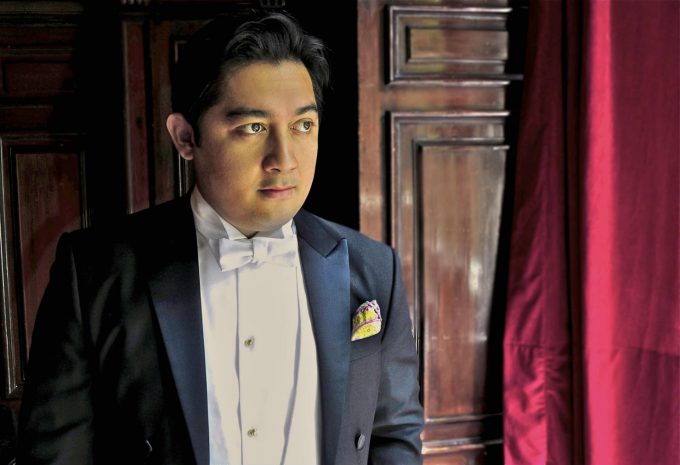 Adrian Prabava explains that his main job as a conductor is to analyze how the period characteristics of the different Bond films are reflected in the scores, and how he can get the orchestra to bring out these colours:
"The music of the James Bond series, is very simple. It's based on three motifs: the augmented fifth note - daaa-daaa-daaa-daaa - and the James Bond motif, dam-da-da-da-daaaaa, and the Bond [fanfare]. Based on these three leitmotifs, the composer created a kind of genre, and this theme is always repeated several times, and hidden sometimes. It creates a ... well, bond between the different music scores, as between the movies themselves. All the Bond actors, from Sean Connery to Daniel Craig, have completely different aesthetics, different spirits of their time. You can tell that Connery's time was the swinging sixties. Then came Roger Moore, a lighter, more flamboyant and comedic taste, and the millennium era of Pierce Brosnan that was a little bit clean. Nowadays we are in difficult times, and that's why the series with Craig suits us perfectly. When I listen to M's monologue in "Skyfall" about the unknown enemies - it's so present! In this case you can tell that the music plays a big role in expressing the aesthetic of the time, even though the [basic] material is always the same."
To no-one's surprise, Monty Normans "James Bond Theme" bookends the main part of the programme in David Arnold's arrangement. Fragments of the signature tune pops up during the entire concert, perhaps most prominently in John Altman's "Tank Drive Around St. Petersburg" written for the tank chase in "GoldenEye". Altman composed and orchestrated this variation on the Bond theme in record time as a last-minute replacement for French composer Eric Serra's original cue, which the production team rejected as an unusable piece of synth-funk a mere week before the film's theatrical release.
John Barry, who established an entire sub-genre of spy film music with his legendary Bond scores, is strongly represented in the first half of the programme. Also featured are Lionel Bart's "From Russia With Love" (1963), "GoldenEye" (1995) by Bono and The Edge as well as "You Know My Name" from "Casino Royale" (2006), co-written by David Arnold and the recently deceased Chris Cornell. "It's rock! An entirely different colour", Adrian Prabava exclaims gleefully. He explains how the title song from Michel Legrand's rather unpopular "Never Say Never Again" score (1983) has found its way into the concert programme:
"I am thankful that we have many wonderful arrangers who can express and exactly point out the specialities of each composition. Because you can hear it immediately. "Live and Let Die", oh, this is Paul McCartney. You know this, you hear his voice, the harmonies sound like McCartney. You hear Shirley Bassey's voice in "Diamonds are Forever". And then, suddenly, "Never Say Never Again" which is out of series ... interesting. The music is quite unusual, because Michel Legrand has a completely different language. There's his famous film, "The Umbrellas of Cherbourg", and when I studied "Never Say Never Again", I said to myself, "I know this harmony! This is not James Bond. It doesn't have it's DNA." Because they were not allowed to, and that's why it brought a completely different taste, another scent, to the programme which I think is beautiful."
Adrian Prabava normally conducts classical symphonic music and opera. He accepts two or three film music concert assignments each year because he enjoys the challenge, he says:
"It's kind of a fitness programme both for the conductor and the orchestra. You are both demanded to be very precise. There is no space for to play rubato, to take time. The film is very unflexible. Opera, you have a little flexibility, with ballet you have less flexibility, and with film you have no flexibility at all. You have to serve the film. It's a healthy exercise, to train the inner beat of such a big organ. An orchestra is made of many people, and the bigger the orchestra, the heavier it is, the later their reaction [comes]. They are human beings, it's normal. People will wait, there is a delay between the impulse and the realization of the sound. With this project, you force the orchestra to drive. To have a drive, an inner beat, and not just wait until one sound comes as a signal to continue. Everyone is responsible for the stability of the orchestra. It is very demanding and quite different from normal symphonic repertoire."
Whether working with classical pieces or film scores, Adrian Prabava's approach is always the same. He explains his process:
"When I prepare, I always work on piano. I play all the parts slowly to know exactly what is going on in the whole score. I have to know exactly which notes, which harmonic progressions, which key. Some arrangers write in a concert version which means the note is written as it sounds, and others write it down in transposition. Like you're playing a horn in F, it's written C, but it's sounding F. A clarinet in B, it's written in C. Which for me is actually more logical. I have to transpose in my mind all the time. If someone writes a thing with everything in C, I get a shock. That's why I have to know in advance, how big is the orchestration, how many horns are playing, do we need to double - should the tuba play one octave lower? In general, if I have a score I have to work pathologically on it, I have to open it and analyze and look at every single detail and then reconstruct it again and build it up as a composition at the end. I perform an autopsy and put it back together at the end. It takes a long time. For this programme, it probably took four weeks."
Adrian Prabava admits to not having seen all the Bond films ("I missed "On Her Majesty's Secret Service" and even some of Connery's. But I have seen the last eight"). It was actually a rival agent series that introduced the power of film composition to Prabava at an early age:
"I remember as a child being very impressed by one series, "Mission: Impossible", the old one. If you really listen to the music, the compositions of Lalo Schifrin, it was avantgarde! It's incredibly contemporary music which you won't go to a concert to listen to. It's very challenging and demanding music. But in combination with the movie, it's such a fusion that you don't even notice it. It has a psychological effect, to raise the tension of the scene. It's the same with good film music."
● Buy tickets for "The Hunt for 007"
● The concert programme for "The Hunt for 007" (pdf)
● Adrian Prabava - official site
● Tivoli Copenhagen Phil - official site