James Bond•O•Rama.dk got an exclusive one-on-one interview with George Lazenby, when the 76-year old former 007 star visited Oslo in Norway on Thursday 1 September 2016.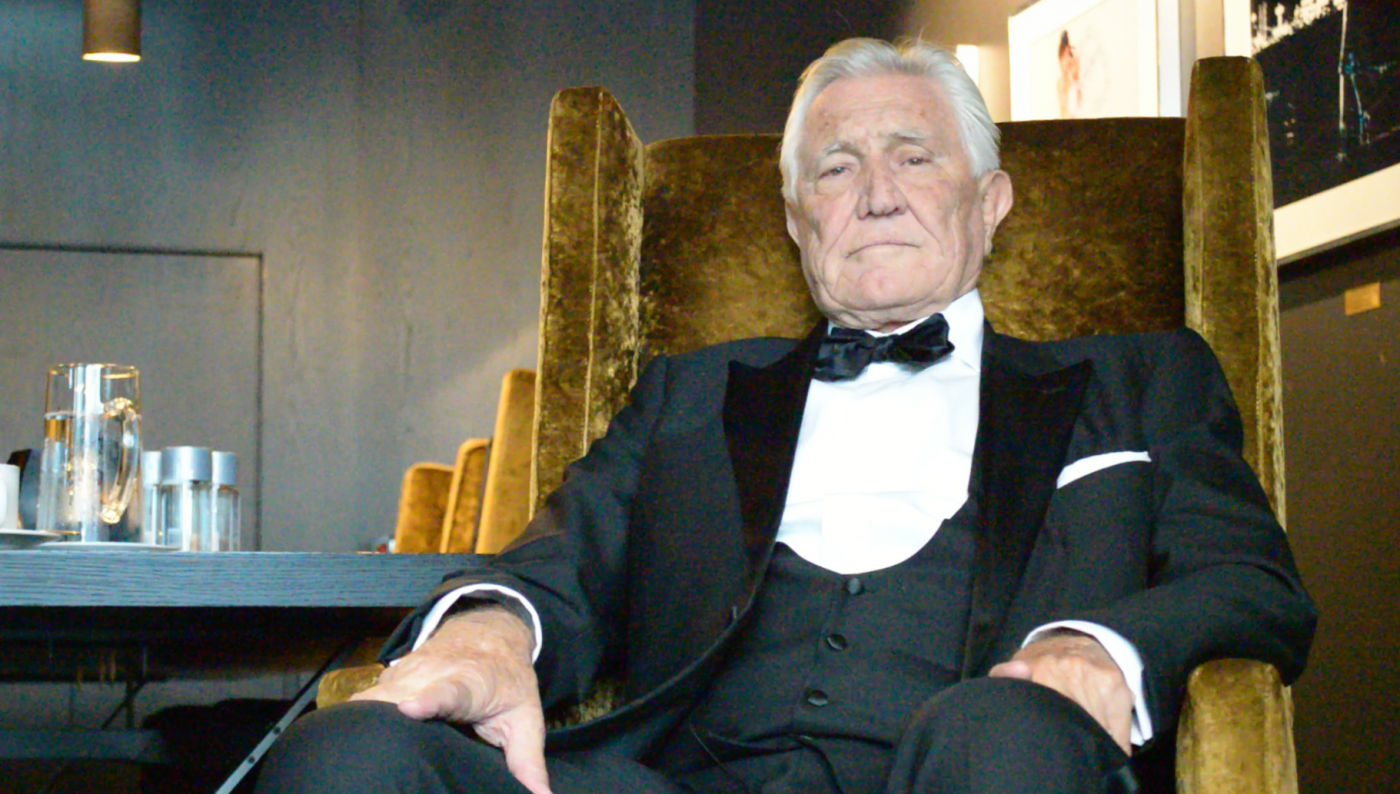 In most of his interviews and public appearances, George Lazenby happily reels off the same 10-15 anecdotes about his brief tenure as James Bond 007. The idea behind this conversation was to take a Random Roles-style approach and dig deeper into his filmography, which after all counts 60 credited film and TV roles and spans almost half a century from 1969 to today.
Bond•O•Rama (Brian Iskov): "On Her Majesty's Secret Service" is my favorite James Bond film.
George Lazenby: Well, you have good taste.
Bond•O•Rama: But you have 60 other credits in your filmography that people rarely talk about.
George Lazenby: Oh yeah. They never talk about 'em.
Bond•O•Rama: So I thought that's what we're gonna do.
George Lazenby: Oh, if I remember them.
The short time frame – 13 minutes – allotted to our one-on-one with George Lazenby obviously curbed the level of detail in both questions and answers. As it is, Lazenby tends to go off on tangents (more often than not about his manliness and/or sexual prowess), which is why some of his comments only bear a tenuous relation to the question or the film referred to.
A few extra insights have been added from the Q&A that George Lazenby did prior to the screening of "On Her Majesty's Secret Service" in the Vika cinema later that same evening.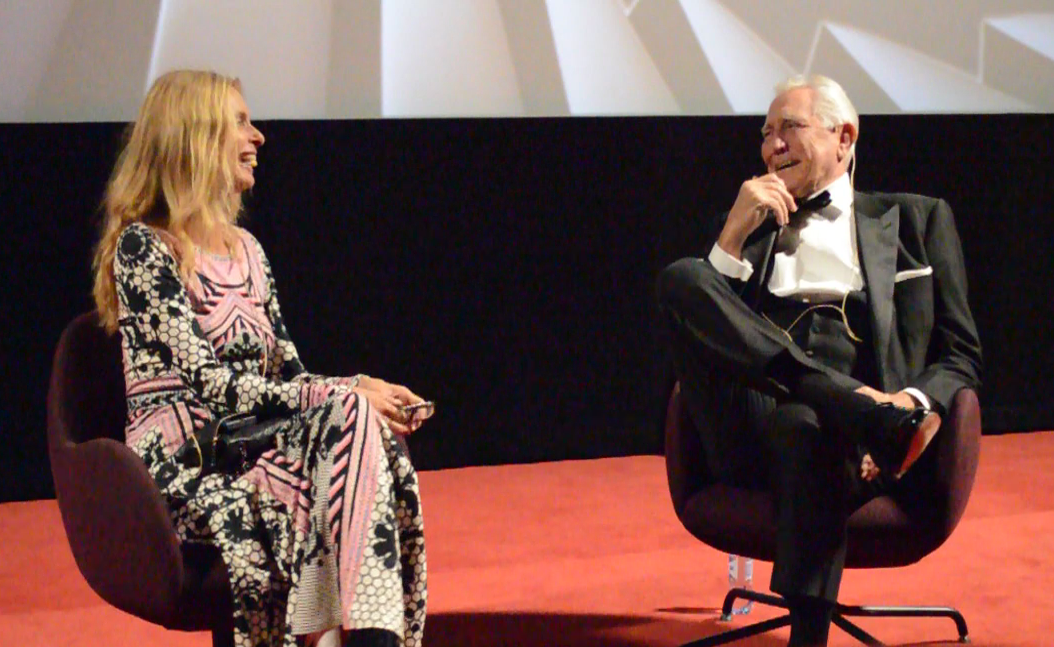 P.S.: George Lazenby's memoirs have been in the offing for quite some time now, but there is still no publishing date as such. At his press conference in Oslo, Lazenby explained that he had hired an American ghost writer for the job, but that the writer had difficulty capturing Lazenby's particular brand of Australian humor.
On the other hand, a documentary on George Lazenby's life and career, "This Never Happened to the Other Fella", is currently in post-production. Directed by Andrew Lumley, the show will air as part of the Limelight Documentary Series on the US streaming platform Hulu.
Morten Steingrimsen, the head organizer of the "James Bond in Oslo" event, has seen a rough cut of "This Never Happened to the Other Fella". He confirms that quite a few of George Lazenby's non-Bond films will be covered in the documentary.
● Go here for part two of our exclusive George Lazenby interview!
---
THE GEORGE LAZENBY CAREER INTERVIEW
PART ONE: THE 1970'S
All text and original photos © Brian Iskov, Oslo 01.09.2016
Universal Soldier - "Ryker"
(1971, dir.: Cy Endfield)
A defiantly self-destructive career move if there ever was one, George Lazenby's very first gig after "On Her Majesty's Secret Service" turned out to be this grimy, low-budget, hand-held, idealistic counterculture film. Sporting mutton chops, shoulder-length hair and a pimp moustache, Lazenby is almost unrecognizable from his handsome James Bond image as Ryker, a mercenary who grows a conscience and falls in love with a hippie chick in London.
"Universal Soldier" is very much of its time, a Vietnam-era artifact that wants to engage with the politics and the zeitgeist. But the "freer approach" touted by Lazenby as the next big thing in movies mostly leads to unintelligible mumbling, improvised ramblings, self-conscious montages and endless moping around to the sound of morose ballads. It's even more tedious and amateurish than it sounds and barely watchable today. Apparently, it wasn't much cop either in 1971. "Universal Soldier" went practically unreleased, and by his own admission, George Lazenby, who put his heart and money into the project and is credited with "additional dialogue", couldn't get arrested for quite some time afterwards.
Bond•O•Rama (Brian Iskov): Do you have a personal favourite of all your films?
George Lazenby: No, it would have to be "On Her Majesty's Secret Service", because I haven't done any major films per se. I'd made one called "Universal Soldier" that I was very involved in. It was about some mercenaries becoming pacifists. Which didn't go anywhere.
Bond•O•Rama: That was the very first thing you did after Bond. The complete opposite.
George Lazenby: Exactly. Because it was "make love, not war". And that would have been the ideal. Can you imagine that being popular, mercenaries or soldiers becoming pacifists? Every government in the world would hate you. Heh-heh. Because they'd have the military walking out.
"Universal Soldier" has only been released on VHS. A copy with extremely poor image and sound quality can be found on YouTube (link).
Who Saw Her Die? - "Franco Serpieri"
(Chi l'ha vista morire?, 1972, dir.: Aldo Lado)
The rather stylish Italian giallo "Who Saw Her Die?" was shot in Venice and is in many ways a precursor to Nicolas Roeg's far better-known "Don't Look Now" (1973). A long-haired and almost frighteningly emaciated George Lazenby shed 17 kilos to play a man grieving his murdered daughter. Unfortunately, Lazenby was clumsily dubbed in post-production by an unnamed American actor, making it difficult to judge the quality of his performance. Today, George Lazenby would much rather talk about the boat that he bought for his acting fee than the film itself and its production.
Bonus Bond trivia: In "Who Saw Her Die?", one of George Lazenby's co-stars is Adolfo Celi, known as SPECTRE number two, Emilio Largo, in "Thunderball" (1965).
George Lazenby: I wanted to go sailing, and I needed money to buy a boat. I got my agent to hook me up with [Italian director] Bernardo Bertolucci, he was gonna do "Last Tango [in Paris]". And Bertolucci said, "The only part I can offer you would be her husband, which is a small role for you. But I got my friend here," who's been his assistant, Aldo Lado, "he's doing this ... "Chi l'ha vista morire?", it was ... in Venice. Would you like to do that?" And I said, "Yeah, sure. Anything." Because that would give me enough money to buy a boat.
– I went off to Malta and bought a 34-foot catamaran called Maltese Cat. I'd never sailed in my life. The next day, I sailed from Malta to Sicily and ended up in the port there, and couldn't stop the boat. I was in the middle of the harbour. Things flying around ... A guy came out and helped me. But I sailed for fifteen months. I was a pretty good sailor in the end. I couldn't tell you the name of anything, but I knew what to do with it. Because I was learning as I went. A silly thing to do, I got caught in storms. I remember the fishermen saying, "Go back, go back", because I was going out. I said, "Yeah, it's alright for you, I need the wind". And I'd spend all night out at sea, because you couldn't go ashore in the storm. You know, the wash hitting me off the waves. I'd have my bum on the wheel because my hands were going numb from steering the darn thing! But at that age, I felt immortal.
– My girlfriend was asleep in the cabin, because of the waves, and I couldn't leave the wheel to wake her up. I was yelling, but the storm was so loud she couldn't hear me. We pulled in, and I got a bead on a fishing boat the next morning after the storm quietened down. I didn't know where I was, I had been out there all night. I got a bead on a fishing boat, knowing he came out of a port. I went into that port and just anchored. And I laid down outside, and I opened my eyes, and I thought I'd been asleep for two seconds, because it was six o'clock in the morning when I parked those things. It was six in the morning again! She said, 24 hours I was out. I was so, you know, exhausted.
"Who Saw Her Die?" is available on Region 2 DVD from Blue Underground (link).
The Man from Hong Kong - "Jack Wilton"
(1975, dir.: Brian Trenchard-Smith)
The best-made and arguably the most fun of the three Asian films that George Lazenby did for Golden Harvest from 1974 to 1976 is "The Man from Hong Kong". This energetic kung fu flick, a favourite of Quentin Tarantino's, is one of the few Lazenby films ever to get a theatrical release in Denmark. As chronicled in Mark Hartley's 2008 documentary "Not Quite Hollywood", George Lazenby nearly went up in (real) flames during his amazing climactic fight with Hong Kong martial arts star Jimmy Wang Yu.
Bond•O•Rama: That fight sequence at the end ... that's just crazy stuff.
George Lazenby: It was. I shouldn't have let them catch me on fire.
Bond•O•Rama: No actor would ever do that today, I guess.
George Lazenby: No. It was part of my fearlessness. I got burned doing that. I got mad at the director. He told me there is no way I was gonna get burned. Of course, you saw how much fire was there. I was completely engulfed. And I fell on the floor, and the carpet took the protection [gel on the arm] away. So the whole arm got burned. That was just one take!
Bond•O•Rama: How did you get along with [Chinese-Taiwanese lead actor] Jimmy Wang Yu?
George Lazenby: Didn't. Didn't get along with him. He doesn't like white guys. He gave me a tough time from the beginning. Until we had a wrestle in Sydney, and I got him in a hold where he couldn't get out, and I could have broken his arm. I remember, because I was into judo and stuff since 16 years old. Meanwhile, one of the crew said, "That took you a while". Jimmy Wang Yu was an expert in karate. But once we got on the ground, I had him. We had white suits on, too. He's nuts, he attacked me. He just came at me.
Umbrella Entertainment will be releasing "The Man from Hong Kong" on Australian Blu-ray 5 October 2016 with loads of bonus features (link).
Kentucky Fried Movie - "The Architect"
(1977, dir.: John Landis)
Before ZAZ (David Zucker, Jim Abrahams and Jerry Zucker) revolutionized the spoof genre with "Airplane!" in 1980, the trio developed their particular brand of absurd sight gags, parodic references and rapid-fire jokes in the stage troupe Kentucky Fried Theatre at the University of Wisconsin-Madison.
ZAZ' first attempt to translate their Mad Magazine-inspired zaniness to the big screen was "Kentucky Fried Movie" in 1977. Zucker, Abrahams and Zucker wrote, produced and acted in this raucous collection of skits, although they did leave the directing duties to another young, up-and-coming American filmmaker: John Landis. In a segment that spoofs the conventions of the disaster film genre as well as riffing on "Casablanca", George Lazenby briefly appears as himself playing the role of "The Architect". He gamely keeps a straight face in his two scenes, even with explosions and sparks going off and building materials crashing down on his head. (This gag was later reworked by ZAZ in the end credits of their TV series "Police Squad!" from 1982).
Bond•O•Rama: You only have a tiny cameo in this one, but it seems to have been a very complicated shoot, with all kinds of mayhem happening around you.
George Lazenby: Yeah, it was. But people remember me for that. I was there for three hours. I just came back from Australia, and I was in my agent's office, and they said, "Will you go over there and do a cameo for 'em?". And I went over, and I did it, and that was it.
Bond•O•Rama: Only three hours?
George Lazenby: Yeah. I was there no more. I walked out, and everyone was talking about me doing all this crazy stuff. But that's how life is. You never know.
"Kentucky Fried Movie" is available on DVD and Blu-ray.
Saint Jack - "Senator" (Jim)
(1979, instr.: Peter Bogdanovich)
One of George Lazenby's most intriguing films is "Saint Jack", a very worthwhile character study of a charmingly smooth pimp and problem-solver (a terrific Ben Gazzara) trying to make it Singapore in the early 70's. The director, Peter Bogdanovich, and Lazenby were both in their career doldrums at the time of production, and despite winning the Critics' Prize at the Venice Film Festival, "Saint Jack" sank without a trace. Only recently has the film been rediscovered by the likes of Wes Anderson and Quentin Tarantino, praising its vivid atmosphere and strong sense of authenticity (it was shot guerilla-style without permission on locations that no longer exist today).
As a US Democrat senator caught consorting with a local rent boy, Lazenby is twelth-billed and chalks up just as many minutes of almost silent screen time. It might not seem that promising on paper, but his night-time walk through the city streets make up one of the film's most riveting sequences, captured by DOP Robby Müller in thrillingly voyeuristic wide shots with long lenses.
Bonus Bond trivia: An amusing scene shows two billy-boys (shemales) doing a hotel room dance to John Barry's score from "Thunderball" as well as Shirley Bassey's recording of "Goldfinger". According to Bogdanovich, EON Productions gave him permission to use the original tracks but when they saw the context in which the songs appeared, they were so appalled that "they never allowed it again".
Bond•O•Rama: A film of yours that has experienced a renaissance in recent years is "Saint Jack", in which you have a small, but pivotal role.
George Lazenby: It was. I was playing a gay senator, an American gay senator. This was Peter Bogdanovich and ... the actor ... Ben Gazzara. A great guy, I loved him. They talked to me a few times in a bar, because I was down there doing a "Hawaii Five-O" episode in Singapore, of all places [see below]. They approached me in a bar to play this gay senator, and I said, "Get outta here". But after about three days of mucking around, I got to like them, and I said, "Sure, I'll do it". I just had that one moment where the gay guy comes in, and ... It's one of those things that you do as an actor, you know.
Bond•O•Rama: You shot in the old Singapore, around [legendary red light district] Bugis Street with the billy-boys and so forth. It's all gone now.
George Lazenby: Well, you know. It was American money spent on that place, with the guys [American soldiers] from Vietnam, they get leave and feel like they were in America. They bought that Americanized Singapore.
Bond•O•Rama: What was Bogdanovich like? By his own admission, he was pretty much at a low point in his career after having had a string of flops.
George Lazenby: Well, you know, he was a film director. He wanted to get what he wanted to get, regardless. He's ruthless in that way. But on the other hand, I got along with him. He was probably thinking I was just an actor, but I ... I went to the screening of it at his house, and it was the last I saw of him.
"Saint Jack" is available on Region 1 DVD from Kino Lorber (link).
Hawaii Five-O - "John Cossett" (guest star in double episode "The Year of the Horse")
(TV series, 1979, dir.: Don Weis)
American actor Jack Lord played Felix Leiter in EON Productions' first James Bond film, "Dr. No" (1962). Lord since became a television star as Detective Captain Steve McGarrett in the series "Hawaii Five-O", which aired for 12 seasons on CBS from 1968 to 1980. In the double episode "The Year of the Horse", which closed the 11th season, George Lazenby guest stars as a secondary villain, very unflatteringly attired in a white hat, sandals and an oversized three-piece suit.
George Lazenby: I got the job walking across the [studio] lot. And they said, "Can you go to Singapore today?". "Yeah". And they sent me to Singapore, and I remember Jack Lord seeing me, and he said, "What's he doing here?". So they dressed me down, gave me clothes that didn't fit. Jack had fired the director, so ... they had a week to get the other guy to acclimatize himself to the project. So Jim McArthur [Danno in "Hawaii Five-O"] and I played tennis and drank and carried on, and that's how I ran into Peter Bogdanovich [see "Saint Jack", above]. Meanwhile, I didn't look so good. But lead actors don't like having leading men around.
"Hawaii Five-O" (Season 11) is available on Region 1 DVD from CBS/Paramount.
BONUS FILM
(QUOTES TAKEN FROM GEORGE LAZENBY'S Q&A AT VIKA KINO, OSLO 01.09.2016):
Stoner - "Joseph Stoner"
(Tie jin gang da po zi yang guan / The Shrine of Ultimate Bliss, 1974, dir.: Huang Feng)
George Lazenby knows how to throw a punch, as we all know from "On Her Majesty's Secret Service" (also, he's Australian). In the kung fu/grindhouse flick "Stoner" from 1974, the first of his three Asian productions for Golden Harvest and Raymond Shaw, Lazenby and his porn mustache go out for revenge in this dizzying hodgepodge of lurid 70's sleaze, loud funk music, rotten dubbing and loads of scantily-clad crumpet. Lazenby even fights martial arts legend Sammo Hung (the film's action choreographer), and even though George's kung fu skills are clearly inferior to his Asian opponents, he is thorougly committed and gives it his all.
George Lazenby: I couldn't do kung fu. They sent a guy over [to London] to train me. For three months, six days a week, I did kung fu. He started off by getting a hold of my leg and putting it on his shoulder [makes a loud cracking noise]. "Oooow!" He said, "You white guys can't kick your legs high!". He said it would take me forever [to learn]. So I started doing that, and my girlfriend, wife at the time, said, "Keep doing it". She loved it. I wonder why [laughs]. You get so fit doing that stuff!
– I can remember some crazy things happening, because the Chinese, they settle by punching. I don't know why. I'd be going to work on a Volkswagen bus with the Chinese, and I wouldn't know what the hell they were arguing about. They'd stop the bus, two of them would get out and whack each other until one couldn't get up, and then the other one got on the bus and go.
– I accidentally hit one [Chinese stuntman] once. Because they'd give you, like, fifteen moves. It's not like American films, where you'd do two or three and stop. The Chinese just wanna see the fighting, so you gotta do these long fight sequences. They don't care about the dialogue in those things! Three seconds of dialogue, then you fight. Another three seconds of dialogue, then you fight again. And I hit one of the guys. He came off a trampoline at me, and bang! Just caught him a bit on the chin. He was a little bit wobbly for a while, and he got up. We went out to lunch, and we're eating out of these boxes. The next thing I know, my suit coat comes over my head, and they give me the biggest charley horse [hits thigh with fist]! Owww. And I pull the thing back, and they were just, you know, [sitting there] eating. I couldn't figure out which one did it. They said, "You mustn't hit us. This is our lives."
"Stoner" is available on Region 1 DVD as part of the box set "The Angela Mao Ying Collection" (link) from Shout! Factory.
● Read part two of our George Lazenby career interview here
FURTHER READING:
● Bond•O•Rama meets George Lazenby, pt. 1: Malmö (2014)
● Bond•O•Rama meets George Lazenby, pt. 2: "James Bond in Oslo" (2016)
Special thanks to Morten Steingrimsen.