On September 1, 2016, Bond•O•Rama.dk had the pleasure of sharing a table with legendary Bond girls Caroline Munro and Martine Beswick. This is the first half of our three-way conversation.
Caroline Munro (b. 1949) adorned the set of "James Bond 007 - Casino Royale" (1967) at the age of 16 as an uncredited "Guard Girl". Ten years later, she made quite a sensation as Stromberg's scantily clad helicopter pilot Naomi in "The Spy Who Loved Me" (1977).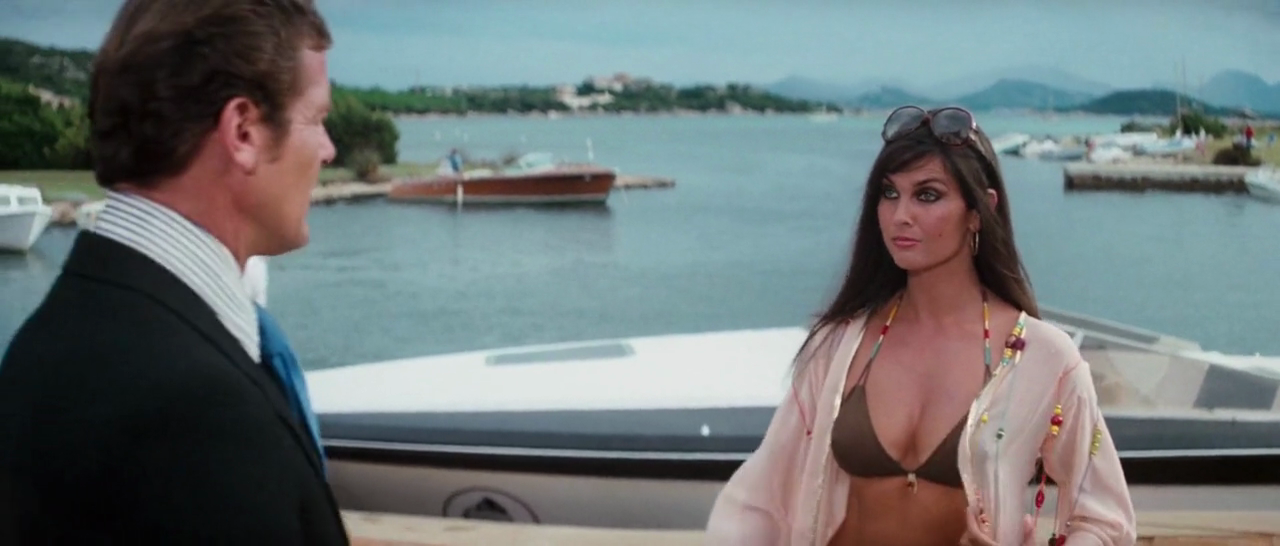 Martine Beswick (b. 1941) made her striking film debut as Zora, one of the fighting gypsy women in "From Russia with Love" (1963). The film's director, Terence Young, asked Beswick to return for "Thunderball" (1965), now in the role of Nassau agent and Bond ally Paula Caplan.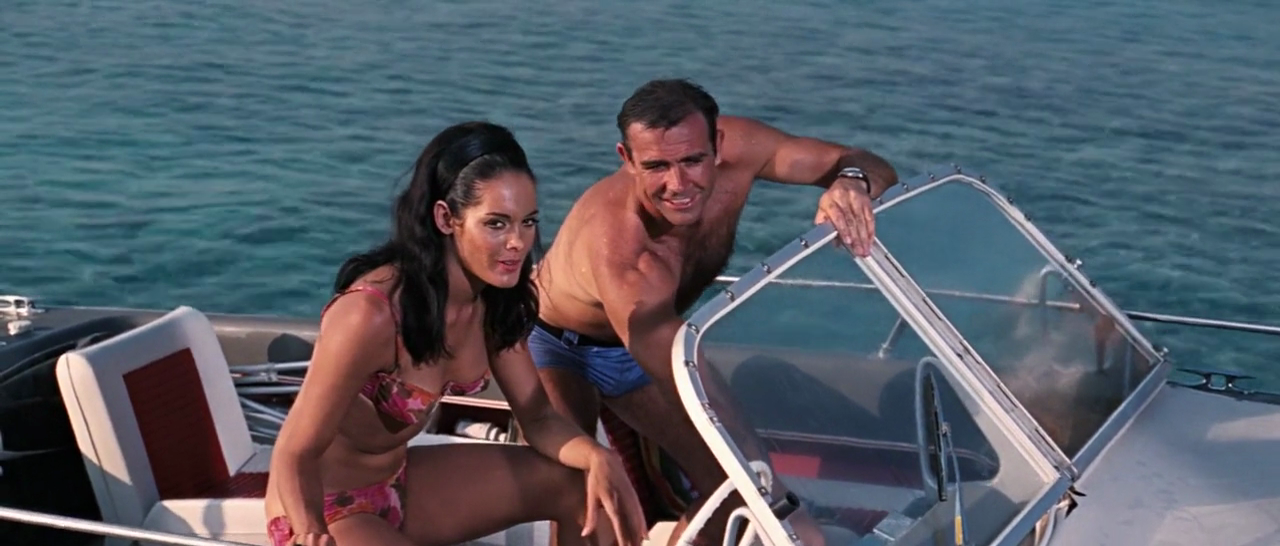 Beswick, now 75 years old, has since retired from acting, whereas 67-year-old Munro still does the occasional tiny cameo. The two lovely and charming women are however much in demand as guests of honour at horror, sci-fi and James Bond conventions all around the world. Beswick and Munro prefer to travel and appear together, and as the bosom friends merrily chattered away, completing each other's sentences almost telepathically, their chemistry was immediately apparent to Bond•O•Rama's special correspondent.
Ditto their contrasting personalities. As soon as Caroline Munro learned that yours truly was yet to have lunch at 3pm, she warmly offered to share her pot of tea with me. She came across as sweet, motherly and somewhat innocent compared to the more devil-may-care, outspoken "big sis" Martine Beswick. Both were exceedingly fun and endearing.
Bond•O•Rama met Caroline Munro and Martine Beswick at the design hotel The Thief in Oslo, where George Lazenby had held court at a press conference earlier that day. This first part of the interview (edited for clarity) primarily touches upon subjects related to James Bond 007. Part two, focusing on Beswick and Munro's film work outside of the Bond series, will follow shortly. [EDIT: Read part two here.]
A very special thank you to Morten Steingrimsen and "James Bond in Oslo" for facilitating this interview.
● Bond•O•Rama meets George Lazenby: "James Bond in Oslo"
● Exclusive career interview: George Lazenby, part 1
● Exclusive career interview: George Lazenby, part 2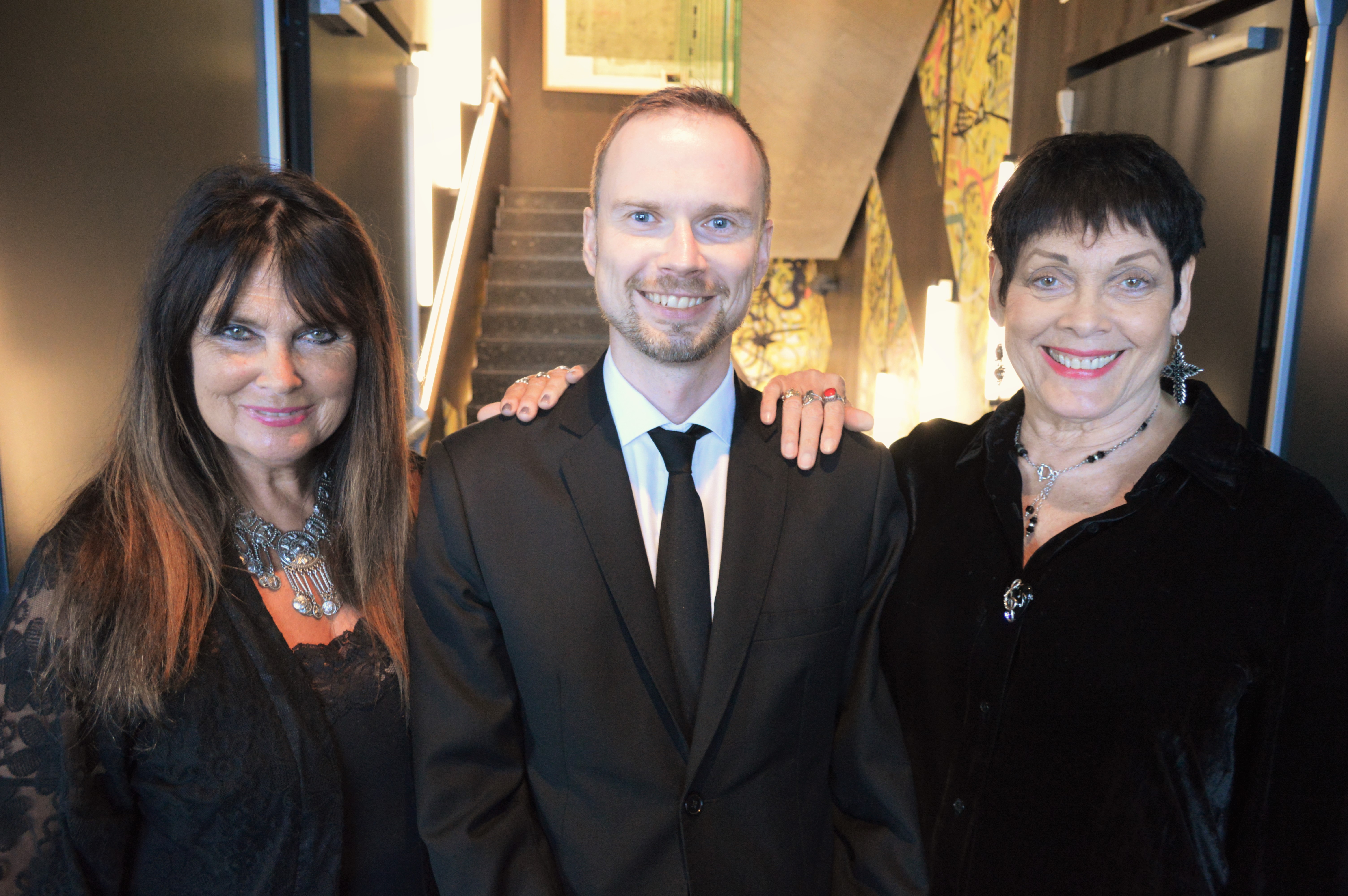 BI: Brian Iskov/Bond•O•Rama.dk
CM: Caroline Munro
MB: Martine Beswick
George Lazenby
CM (realizing that everyone else from the Bond party has left the hotel restaurant): So where've they all gone?
MB: George is off to bed.
CM: Oh, I'm sure he is. He must be exhausted after all his talking (both laugh, conspiratorially). He's a bit of a loose cannon.
BI, to CM: You knew George back in the 60s?
CM: M-hm. We did a commercial together, and I rode on the back of his Harley-Davidson all around Hyde Park. So I remember that really well.
BI: That was not part of the commercial, was it?
CM: No, no.
MB: Of course not. Because basically, it's never part of anything. He's always gonna try and get in there, he he.
CM: And he came and he met my parents, and Mum said she thought he was the most beautiful man she'd ever seen. After, she said, (whispering) "Caroline, you should go out with him". And I said, "Noooo, he's a friend."
MB: It's a good thing you didn't go out with him, darling. You were not ready for him. (high-pitched, hearty cackle)
CM: No, I was so not ready for anybody in that age. No, I didn't know what was what.
BI: He would surely have told everyone.
CM: What, here, now? Oh yes. That would have been ... no, there's nothing to tell.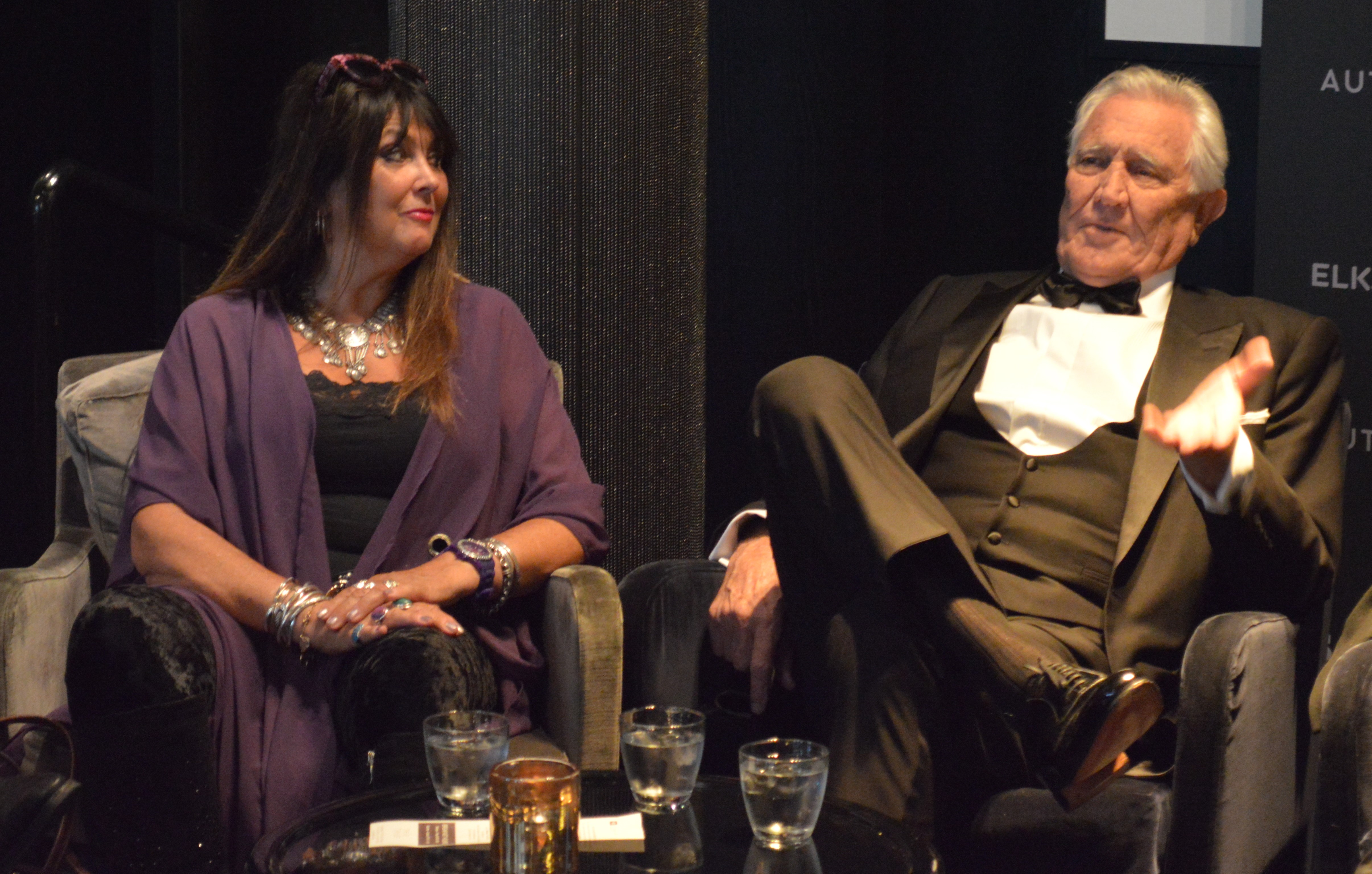 Best friends
BI: How long have you known each other?
CM: A while.
MB: A while.
CM+MB (in unison): Eighteen years.
BI: It's very sweet.
MB: Mad for her. We're mad for each other.
CM: She is magical. She has magical qualities. She's what you see, but also so much more. She just has, she oozes ...
MB: Aaahhh. Have you met my manager, my agent? My publicist? Ha, ha.
CM: She just so does. And calm, and sense, and clarity.
MB: And madness.
CM: Yeah, but a little bit of madness is wonderful, we love a bit of madness. Good mad is good.
MB: Well, we actually have a lot of fun. That's one of the things, because when we met, her very best friend is also our agent in our signings. And the one thing I said was, "I want to do the autograph shows with you, and I want us to have fun and just us." And that's what happened, so we have such fun.
CM: We do.
MB: In fact, as much as we can, we do things together.
CM: Together. We're doing one in London. And then you're away ...
MB: We have a German one next week.
CM: Oh, of course! We've got Germany, which is a film festival. For ... what films do they show?
MB: I don't remember. Hah!
CM: We always find out when we get [there].
BI: How much would you say you are travelling, like in a year, to all these events?
MB: Depends. This year has not been big travelling, actually. But last year, we did a few. We did about two or three, yeah.
CM: In America, we did do America a month ago. That was really good, "Monster-Mania", it's called. It's horror-based. But other than that, it's the festivals I really like. The film festivals. Because there's the talking, and you see the films, and it's a different thing that just sitting and signing. Sitting and signing is great, if you can have a few questions and things to make it ...
MB: Especially if it's a Q&A, that's really fun. Especially because we love doing it together. So you've got us together. Heh, heh.
BI: Do you get recognized more for the Hammer stuff or the Bond connection?
MB: Both.
CM: Both, I think. Yeah. I would say fifty-fifty.
MB: It depends on the fans.
Copenhagen
BI, to CM: You've been to Copenhagen a few times.
CM: I love Copenhagen. We went there! On the cruise. Did you see The Little Mermaid?
MB: Yes, we saw the Mermaid. This is a cruise that we went on last year, a Bond cruise. Took us to Amsterdam, Hamburg, Copenhagen and somewhere else. There were like four places.
BI: Was that, like, for charity?
MB: No, basically what is was, they wanted us to be our Bond girl selves and sort of give a talk and answer questions and show a few clips. And we got a lovely free holiday.
CM: We got a free cruise, and I took our agents' mum with me.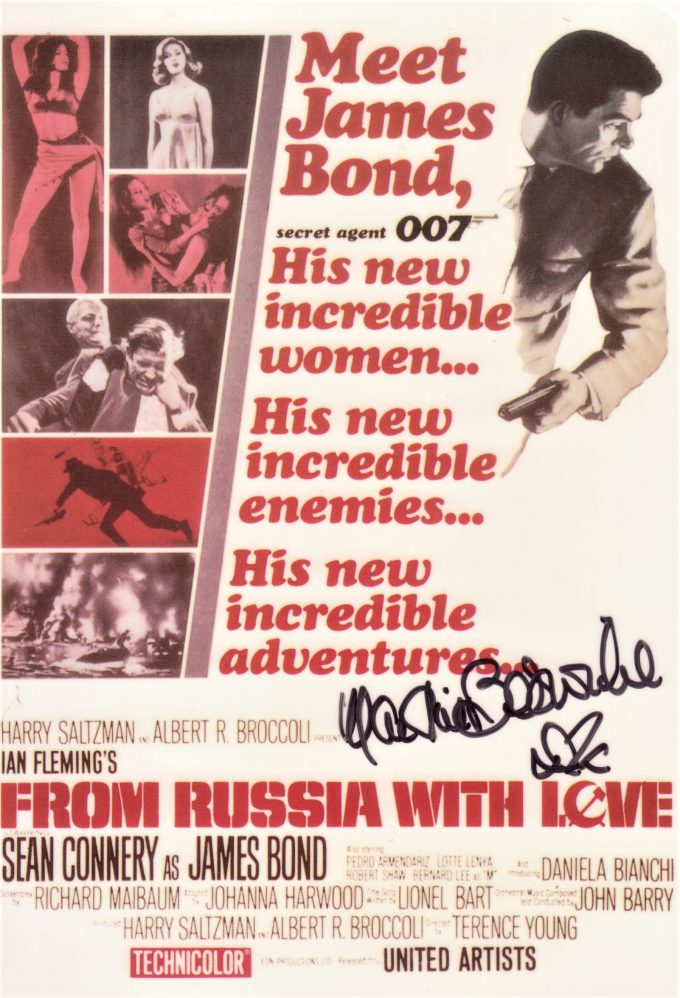 From Russia with Love (1963)
MB [upon signing a "From Russia with Love" postcard]: Isn't it amazing that I am on these posters? And it was just a fighting gypsy. We're not talking, you know, the main girl here. Ha ha.
BI: That must have been kind of scandalous back in '63?
MB: M-hm. I did have ... My name was Martin [in the main titles]. They never changed it. Martin Beswick on the titles.
CM: Noooo. They never changed it?
MB: No. I could sue them! Get lots of money.
CM: Really. Oh my gosh, I didn't know that.
BI: Did you not get along with the other girl, Aliza Gur?
MB: Not particularly. She was not a sister, let me just put it that way. I have a lot of fantastic women in my life, who are my sisters. This one ... no way.
"James Bond 007 - Casino Royale" (1967)
BI: I have to ask about your appearance in the 1967 "Casino Royale". It was a famously chaotic production ...
CM: A little bit chaotic.
BI: But did you have any sense of that back then?
CM: Actually, I didn't sense the chaos. I was very young, when I did it. They came to the modelling agency, the casting people. I don't remember if Val Guest came, I'm not sure if he did. He was our director. Basically, the casting director [came], and we were all standing there. Lucy Clayton's, that was a really good modelling agency. And they came and said, [points her finger, bracelets rustling] "Right, that one. That one. That one, and that one." So we were chosen like that. A bit like a cattle call. And I was chosen, along with a lot of other ... at the time, there were some good models there in between. They were chosen just because they looked okay, I think. Marilyn was there, Marilyn Richard. She was one of the main ones there, and I was very ... not. I seem to remember being chosen to wear the Paco Rabanne. By Paco Rabanne, I was chosen. So they used that a bit on the poster, which was very bizarre, because I had no dialogue, and I was in the very back of the scene. Even my mother didn't know which one I was. I didn't. But people have picked me out. It didn't seem chaotic when they were filming, it didn't. I would sit on the side and ask if I could sit on the side and watch Woody Allen and David Niven and these people working. He said, "Yeah, just sit quietly and watch if you want to". So I did. And it just opened up a whole new thing for me, just watching these people. These masters at work. It was good.
BI: Did you meet any of them, talk to them?
CM: I didn't. I was so shy. I didn't really talk to them, no. I mean, they were polite, they were nice. And I would go to the dressing room, it was a great big dressing room with all the girls in it, and they came from all walks of life. It was a very good time, I was on it for quite a long time. And I seemed to get paid quite good money, I seem to remember. It went straight to the modelling agency. So it was good. Some of the women I was with were amazing. I mean, what's her name, Suki Poitier was going out with Mick Jagger at the time. And then another one was going with Brian Jones, and I thought, "Well, I've just come out from the convent, so I don't really know what I am doing here, but ...". And then another one had starred in an "exotic film". She called them "exotic films". She had worked with Russ Meyer. She was awfully nice, I liked her very much. She was really sweet. So it was interesting. That was my first little bit.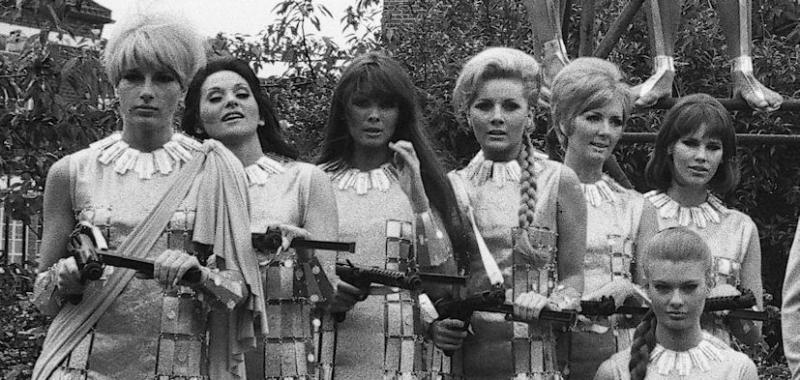 Bond women or Bond girls?
BI, to MB: At the press conference earlier you said that you didn't like the term "Bond women".
MB: Oh, please! Who else adopts that rubbish?
CM: It's the new one that they use, isn't it?
BI: Maybe after Barbara Broccoli became the producer?
MB: No, one of the Bond girls. I don't remember who it was, but someone was giving an interview, one of the girls, and she said, "Well, I really think that we ought to be called Bond women". And I went, "Don't be ridiculous". We know who we are. The whole point was, we knew ...
CM: Yeah, exactly. We are women, but we were Bond girls.
MB: Also, the other thing about Bond girls is that, the question was always "How do you feel about being objectified?". And I said, "Excuse me?". "Did you feel less then ..." "Absolutely not, we were all strong. We are all very individual, very strong people, women."
CM: You can kind of see, when you met the women, they are all so different, but they are equally all just ... They have their own stuff going on, don't they.
MB: Very independent, really independent. To tell me that ... No, I don't feel that at all. Absolute rubbish. And to be called women, why start to do that?
CM: Yeah, after so long. Interesting to see what Barbara thought. Barbara Broccoli.
MB: Yeah, I wonder. I don't think she probably cares.
CM: I don't think she cares either way. And what about Judi Dench? I think she loves being called a Bond girl.
MB: Remember, we called her a Bond girl.
CM: (delighted) We did! Because she was lovely, we met her a month or so ago ...
MB: At a Bond 'do, yeah. We just ran over to her, I was so excited. The two of us were like little girls, and we went over and said, "Awww, you're the best Bond girl ever."
CM: Yeah. And she was so modest, and she giggled. It was so sweet!
MB: And I said, "I'm so sorry", and she said, "No, you know, it has been 17 ...". I didn't realize she'd been doing this for 17 years! For a long time.
CM: Yeah, because if you'd asked me, I'd said maybe 8 or 9 years?
MB: Or ten, maybe.
BI: Seven films.
MB: It didn't even ... But I adore her.
CM: She's the ultimate. Me too. So does my daughter.
Being a Bond girl
BI: I think it was Luciana Paluzzi who said, in the documentary that Maryam d'Abo did ["Bond Girls are Forever"], that there are pros and cons to having been a Bond girl.
MB: Yeah, there are. Well, the pro is this. The pro is meeting people, having these festivals. But the con was that you were put in a box.
CM: A little bit.
MB: And it was hard to break out of the box at the time. Because now you were just "a Bond girl". So that didn't mean that you were a real actress.
CM: No, that's right. Yet you look at Judi Dench, and of course Diana Rigg way back then. So you look at all these wonderful actresses, and Eva Green. I mean, they are such good actresses. It has definitely changed, I think, the role of Bond girls, and the women are ... I mean, I think we were pretty strong in those days.
MB: Of course we were.
CM: For then. But the scripts obviously are written differently. The scripts are more equal now, to Bond. It has to be, really. It has to go that way, because life is going that way. You're not just an adornment. It's nice to be a bit of an adornment, but it's nice also to have a bit of say-so as well, I think.
MB: You had your say-so, darling. You killed him.
CM: No, I tried. I did try. Apparently, I was the only one that he's [Roger Moore's Bond] killed. I didn't know that.
MB: That tried to kill him?
CM: No, he killed me. I was the only one he's physically killed, I was told. Roger.
MB: No, Luciana is ... She's actually killed by some ... He [Sean Connery as Bond, ed.] engineers her to get killed [in "Thunderball", ed.].
CM: Okay. But he doesn't pull the trigger.
MB: No. Because they were gonna try and kill him, and he just turns her, and she gets done.
BI: I think you're right. Roger['s Bond] didn't kill women.
CM: He didn't. But he did kill me. This was fairly recently that someone told me.
MB: Didn't know either.
The Daniel Craig era
BI: It sounds like you're still following the Bond franchise. Are you watching the new films?
MB: Oh, I loved "Skyfall". I didn't love the other one so much.
CM: I liked "Skyfall".
MB: "Skyfall" was a very good film. It wasn't just a Bond film, but it was a really good film. Good script, and I love the fact that they'd gone back to less CGI ...
CM: Definitely.
MB: And also, the relationship that he had with women was much more sexy instead of this, like ... [makes scratchy sound]
CM: It was more real, and she was just amazing. She was quite vulnerable. And he shows moments, a lot of moments of vulnerability. And I think he did, for me, in "Casino Royale" too. I thought that was a really good film. That really came right out of the box for me.
MB: No, didn't do it for me until "Skyfall". Because I wasn't mad for him [Daniel Craig].
CM: I like him. "Quantum of Solace", I just thought, what is that? It was a bit of a waste. But yeah, "Skyfall". And this one ["Spectre"] I've only seen in German.
MB: (amused) Really? You saw it in German?
CM: I saw it in Germany. I couldn't quite follow it. It looked lovely! But I haven't seen it in ...
MB, to BI: Have you seen it?
CM: What did you think?
BI: It kind of falls between two stools, in that it continues on from "Skyfall" in many ways, but it also has more fan service. It's more retro.
MB: Oh, nice!
BI: There are loads of callbacks to early stuff.
CM: Lots of nods. That's quite nice. In a way.
BI: And more humour as well.
MB: Oh. That is what missed for me. That's why I couldn't watch it. The lack of humour was not my idea of ...
CM: That's Bond, you've gotta have that. You've gotta have the humour.
MB: Yeah, once you're killing somebody, you've gotta have a good laugh, you know what I mean? Ha ha ha!
CM: As you do.
BI: He has more of a glint in his eye, Daniel Craig, in "Spectre". A bit more irony.
MB: Oh, thank God for that. Then I'd definitely love to see it. That was what I missed too.
The appeal of Bond
BI: So why do you think [the Bond film series] has endured for 54 years now?
MB: God no!
CM: Is it 54 years?
BI: And the books for ... 63 years.
CM: Wow. It's just got a bit of everything, don't it?
MB: Not a bloody clue.
CM: It's got something for everybody. Nobody's excluded. Obviously, a child, a little child. But they start very young.
BI: I think kids watch Bond as well.
CM: Oh yeah. But I remember my daughter seeing it when she was five, and she burst into tears. She did watch our Bond film, "The Spy [Who Loved Me]".
BI: In which you were killed.
CM: Yeah. She was so excited, we sat and were gonna watch it with popcorn in our sitting room with the telly. It was coming on. I said, "You might like it, you'll see Mommy in a minute". Then mommy came on ...
MB: And then mommy went on and died!
CM: And she burst into [tears] and said, "I hate James. I don't like it." She absolutely hated it. "I hate James Bond!"
MB: "He killed Mommy."
CM: I said, "But I'm right beside you. I'm sitting with you." "I didn't like it". So yeah, maybe when they are a little bit older than five.
MB: Well, little boys love to be James Bond.
CM: (gently affirmative) Little boys do.
MB: Every now and again you see one come up dressed in the full bit.
CM: (coos) Ooh, little tiny tuxedos and little things.
MB: Little tiny tux with a bowtie and the whole thing!
CM: They are very adorable.
MB: What's interesting also, having fans come up, is that they literally can quote lines that I don't even remember, ha!
CM: Yes. No, I don't either.
MB: "You know, you did ..." "I did what?" He he.
CM: "And when you did that, and when you did that." They're very ... good photographic memories they have, I think.
● Read part two of our exclusive interview with Caroline Munro and Martine Beswick