On September 1, 2016, Bond•O•Rama.dk had the pleasure of sharing a table with legendary Bond girls Caroline Munro and Martine Beswick. This is the second half of our three-way conversation.
Caroline Munro (b. 1949) adorned the set of "James Bond 007 - Casino Royale" (1967) at the age of 16 as an uncredited "Guard Girl". Ten years later, she made quite a sensation as Stromberg's scantily clad helicopter pilot Naomi in "The Spy Who Loved Me" (1977)
Martine Beswick (b. 1941) made her striking film debut as Zora, one of the fighting gypsy women in "From Russia with Love" (1963). The film's director, Terence Young, asked Beswick to return for "Thunderball" (1965), now in the role of Nassau agent and Bond ally Paula Caplan.
Bond•O•Rama met Caroline Munro, now 67 years old, and Martine Beswick, 75, at the design hotel The Thief in Oslo. Whereas the first part of the interview concerned the two cult actresses' roles in the James Bond 007 film series, this second part is devoted to their collaborations with Ray Harryhausen, Oliver Stone, Hervé Villechaize and notorious B-movie producers Menahem Golan & Yoram Globus among others.
● Read part one of the interview: Caroline Munro & Martine Beswick discuss their Bond girl experiences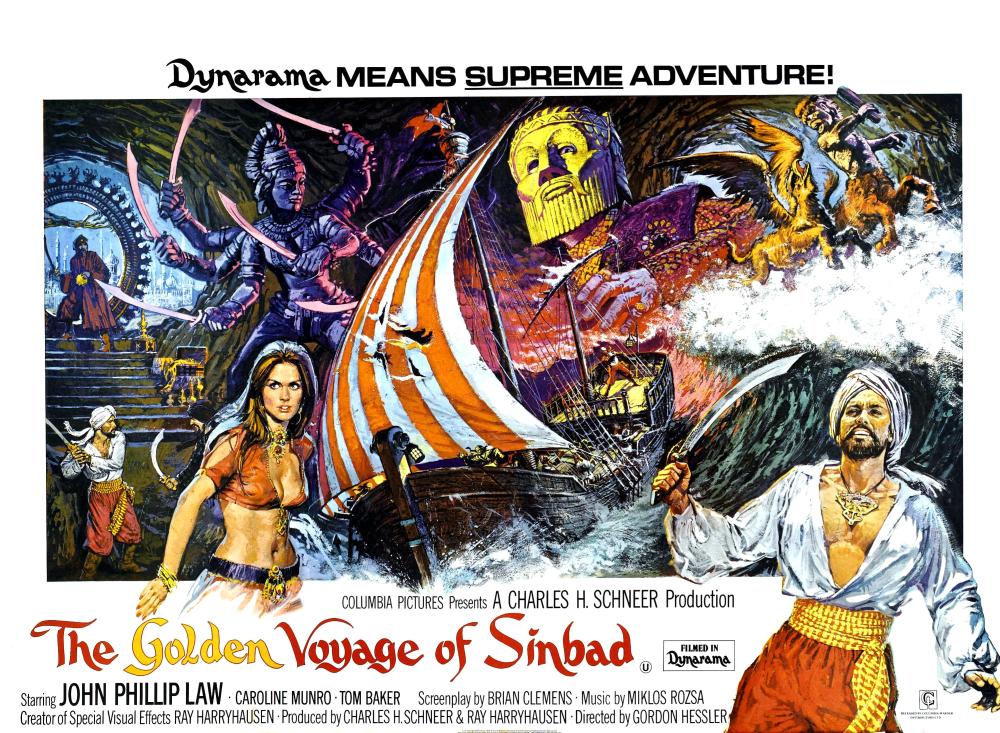 BI: Brian Iskov/Bond•O•Rama.dk
CM: Caroline Munro
MB: Martine Beswick
Ray Harryhausen
BI: You both worked with Ray Harryhausen. And you, Caroline, are connected to the Ray & Diana Harryhausen Foundation as well?
CM: I was a trustee, and now I'm a ... they call me patron. Which sounds really well-put, but I quite like that.
MB: Yes, very grand. Because you are. Ha ha.
CM: I don't know about that. But I spread the word, and of course I was in "The Golden Voyage of Sinbad" (1973), and Martine was in "One Million Years B.C." (1966).
BI: What was that like?
CM: Oh, amazing.
MB: We loved him. I just thought he was fabulous and brilliant. Absolutely brilliant.
CM: So special ... and genius, really, at what he did. Willis O'Brien had started it with his "King Kong" (1933), but Ray kind of took it to another level and just went with it. He named it Dynarama, didn't he? [Dynamation, ed.] It was just so special, the process, and all the big ones ...
MB: ... acknowledge him for making it work, starting them, actually. [Steven] Spielberg ...
CM: Yes. He was sort of their person they look to, and they said, yep, we want to do that.
MB: He was the inspiration to a lot of these guys. I feel very privileged to have worked with him. Don't you?
CM: Me too, absolutely. We're very close with Vanessa, his daughter. She's lovely.
MB: She was on the cruise with us last year. Hi hi.
CM: She was! Yes, she and her husband. They're both farmers. He's a sheep farmer, Ray's son-in-law, and Vanessa is a farmer's wife now. A very selective one, but a farmer's wife.