Today, 16 May 2016, is Pierce Brendan Brosnan's 63rd birthday.
The fifth man to portray James Bond 007 in the EON Productions film franchise (from 1995 to 2004), the Irish actor has also appeared in a Danish feature film. He played the co-lead opposite Trine Dyrholm in Susanne Bier's romantic dramedy "Love is All You Need" from 2012. And by the way, the original Danish title, "Den skaldede frisør", translates as "The Bald-headed Hairdresser".
"Love is All You Need" premiered at the Venice Film Festival that same year. I seized the opportunity to interview Pierce Brosnan – twice, in fact. An intimate two-to-one conversation was followed by a larger session with an international group of journalists. And yes, I shook his hand, which in James Bond terms makes three for six (I've also met Daniel Craig and George Lazenby).
Sadly, the year after this interview was conducted, Pierce Brosnan and Cassandra Harris' daughter, Charlotte Brosnan, died from cancer at the age of 42.
---
INTERVIEW WITH PIERCE BROSNAN, "LOVE IS ALL YOU NEED"
From Bond to Bier
Brian Iskov for Dagbladenes Bureau, September 2012
Working with Susanne Bier and her Danish ensemble of actors became a happy release for Pierce Brosnan after the straightjacket that was James Bond 007. Playing a cancer widower in Bier's romantic comedy "Love is All You Need", the Irish movie star drew on his own life experience
VENICE, ITALY – "Tak" [thanks]. "Tusind tak" [thanks a lot]. And "du er smuk" [you are beautiful].
During his tenure as Agent 007 James Bond, Pierce Brosnan killed [Danish actor, ed.] Ulrich Thomsen and took private lessons in "Scandinavian tongues" with Danish model Cecilie Thomsen. But when we meet Brosnan during the Venice Film Festival in 2012, the Irish-born gent freely admits to a Danish vocabulary limited to the three phrases mentioned above.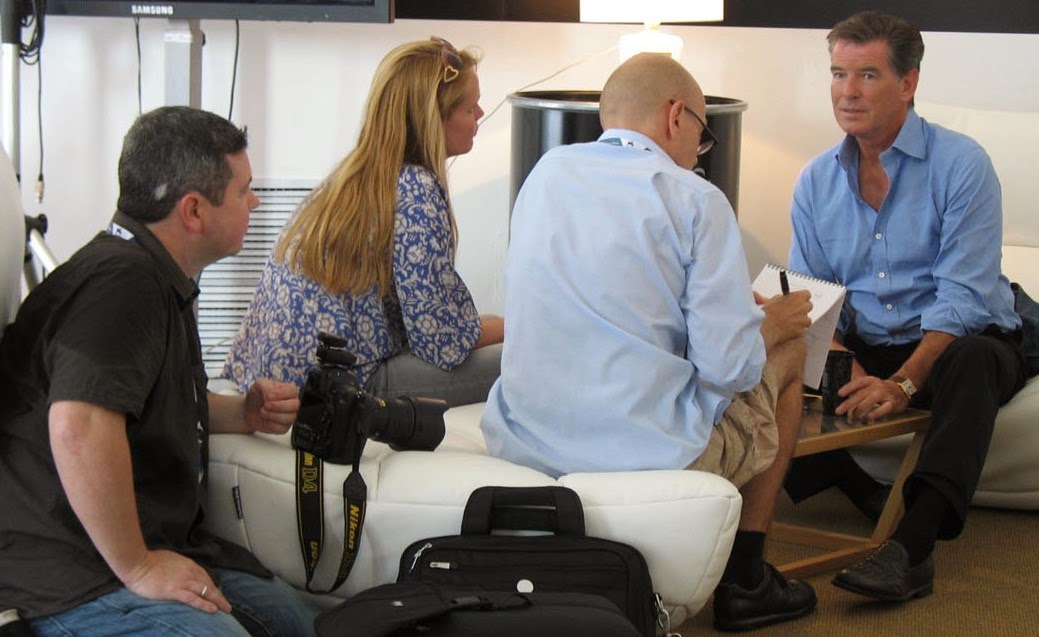 No wonder that the then 59-year-old actor felt apprehensive when he ventured to Copenhagen in 2011 to prepare for his first lead ever in a Danish motion picture: "Love is All You Need" (Den skaldede frisør) directed by Academy Award winner Susanne Bier.
– I was worried about my participation in it, am I gonna rock the boat? I was very nervous that I would take people out of the movie. Also, the actors all had such close proximity to each other. They've grown up together and been friends, lovers, whatever, Pierce Brosnan says.
– Someone like Kim Bodnia has powerful force. You look across the table at the dude, and he's gonna come at you. But he's funny!
Brosnan needn't have worried. From day one, everyone on the Danish film crew welcomed their colleague from abroad with open arms.
– I came into a tribe where I was cared for, nurtured, and laughed at in the best possible way for trying to speak the language, Pierce Brosnan says in his soft-spoken brogue.
– Luckily, the character [a British businessman living in Denmark, ed.] lent himself to this. I believed that [my character] could run this fruit company and never really got the hang of this Danish, always asking my secretary, "what are they saying?". The conceit, I think, was well founded.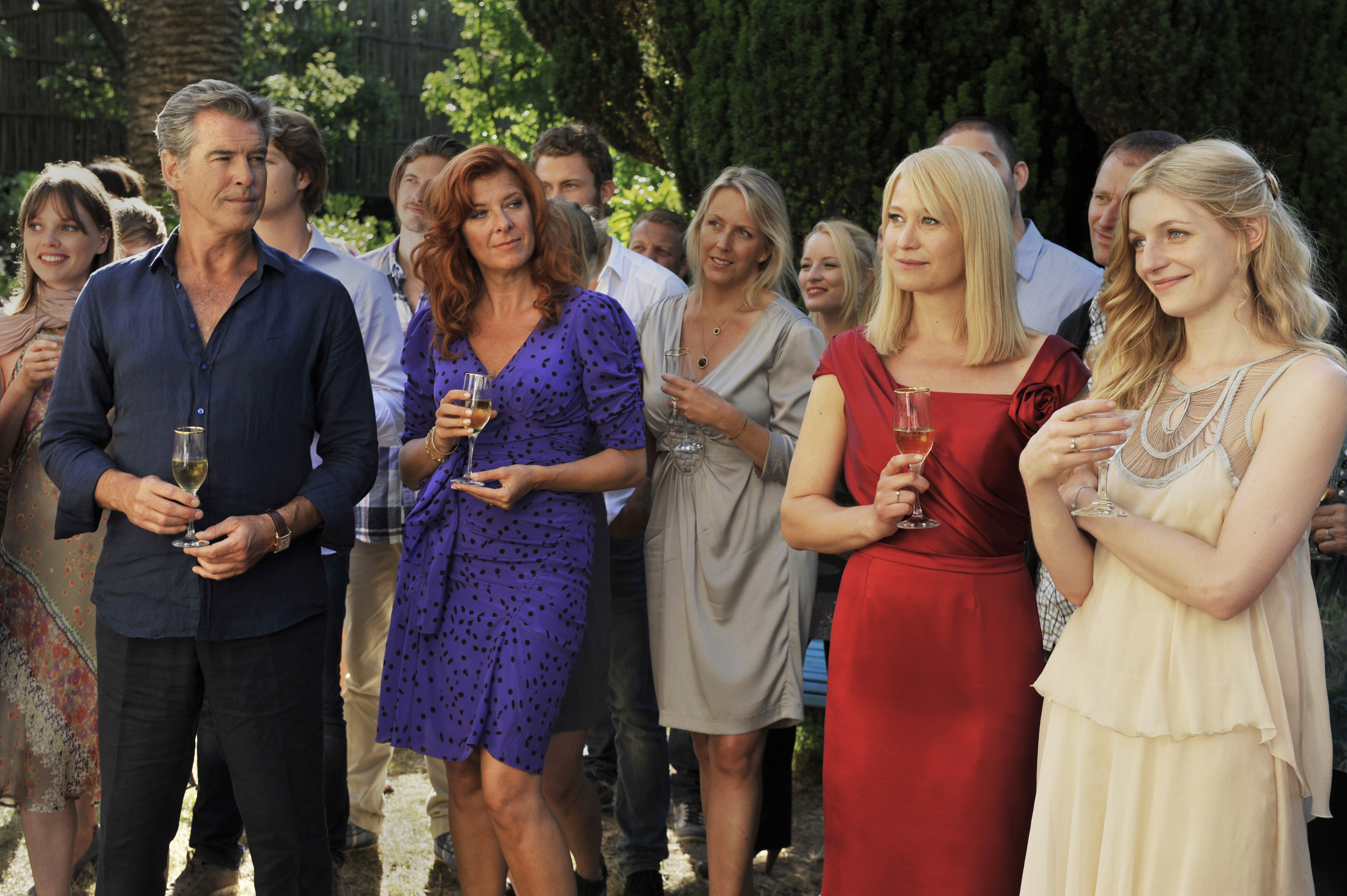 Pierce Brosnan's lack of Nordic language skills is somewhat offset by his knowledge of Danish culture. The actor's pleasant demeanour is momentarily replaced by something resembling slight umbrage when he's asked if he has kept track of the developments in Danish cinema.
– I was fully aware. I'm a filmmaker, been in the business for 30 years. When something like Dogma comes along, you wanna know what that's about. "The Celebration" ["Festen" by Thomas Vinterberg, ed.], "Breaking the Waves" [by Lars von Trier] ... Shit. Wow. Where are these guys' heads at? The visceral energy coming from the screen, the camera. I was cognizant of the fact that there was something going on there that I wanted to be part of.
The sense of freedom that Pierce Brosnan recognized in the Danish Dogma films reminded him of his modest beginnings in London's experimental theatrical scene. There, the newly qualified actor plied his trade in the late 1970's before making his name as a gentleman detective in the popular 80's TV series "Remington Steele".
– I sometimes find the formality of film-making so rigid, he sighs.
– "Quiet, action, cut, print", da-da-da. It can be stultifying and nullifying at times.
Shooting with Susanne Bier's Danish film crew in sunny Southern Italy, with DOP Morten Søborg and his small camera crew dancing around the performers doing long, uninterrupted takes, was indeed "exhilarating, liberating" for the Irish Hollywood celebrity.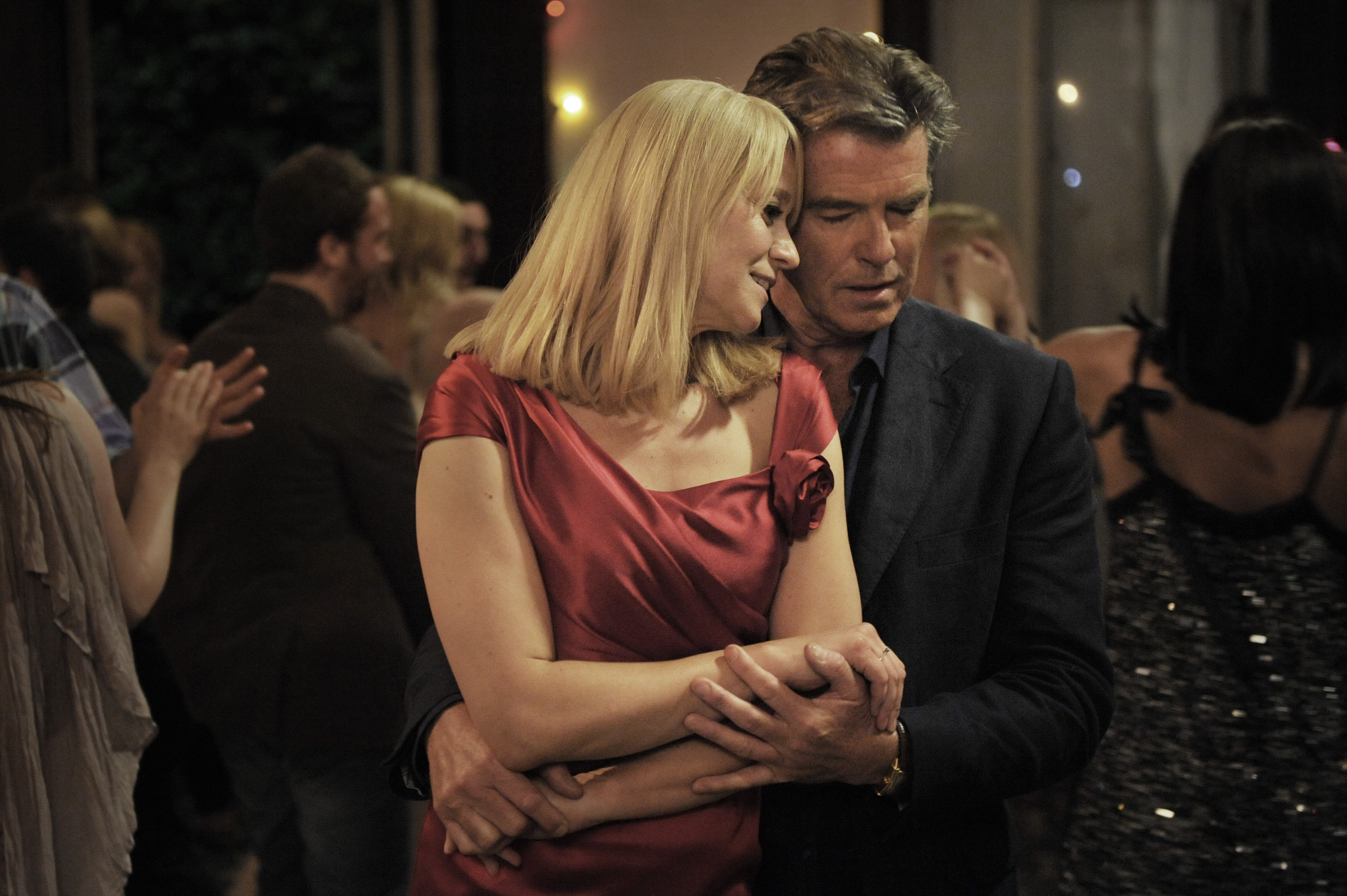 Brosnan was already a fan of Susanne Bier and claims to have seen all of her films. As luck would have it, the interest was mutual. The succesfull Danish director actually tried to cast Brosnan in her previous film, "In a Better World" (Hævnen). He had to decline that offer due to "a conflict of interest", he says.
– Just as well, because they got a better man for the job, Pierce Brosnan comments, without disclosing the nature of the part in question.
His desire to work with Susanne Bier led him to accept the part in "Love is All You Need" before even reading the script. He realized that the plot of this particular romantic dramedy was tied to his own life in so many ways.
In the film, Pierce Brosnan plays the melancholy Philip, who put his heart on standby after losing his wife in an accident many years ago. Only when Philip meets Ida (Trine Dyrholm), a cheerful Danish hairdresser stricken with breast cancer, at a wedding party in Italy does the colour return to his cheeks.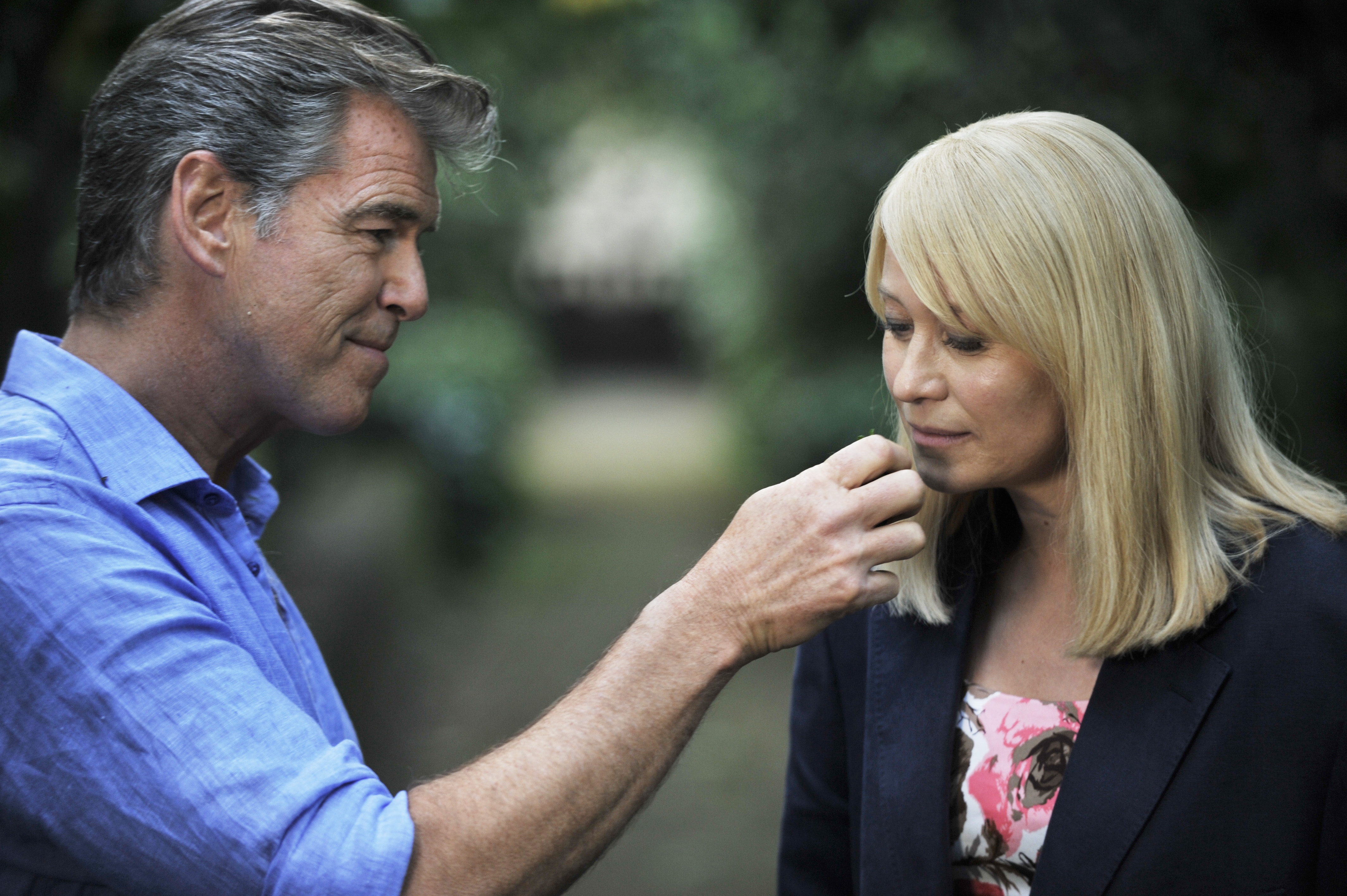 In private, Brosnan knows the grief of the widower only too well. He lost his first wife, actress Cassandra Harris, to uterine cancer in 1991.
– She came like an angel down the stairs one day, and then went like an angel 17 years later, he says quietly.
In the years following his wife's death, Pierce Brosnan struggled to regain his footing as a single father of three children.
– I'd had it up to my back teeth with women and love affairs, sitting in Mexico, and around the corner came this gorgeous girl (Keely Shaye-Smith, ed.), who I'm now married to, and 17 years later, we have two boys. I've been very blessed by love, Brosnan says. He claims, unconvincingly, that the opposite sex didn't always line up at his door.
– I can't say I was very good at chatting them up. It was never particularly smooth sailing. You go out with your mates, and it was usually your buddy who was right there, "I've got their phone number", and I was kind of being polite and nice.
Pierce Brosnan lists Cary Grant, Steve McQueen, Spencer Tracy and, of course, Sean Connery as some of the male role models who eventually inspired him to develop his own sense of style. In time, the Irish lad transformed into the epitome of effortless man-of-the-world charm. His polished ladykiller image was firmly established in 1994 when he landed the part of the fifth James Bond in EON Productions' film franchise.
After a agonizing false alarm in 1986 – where a renewal clause in Brosnan's "Remington Steele" contract forced him to pass the 007 baton – he eventually essayed the role of the world's most famous secret agent in four films between 1995 and 2002.
– Bond will follow me for the rest of my days, and happily so. Bond has allowed me to sit here today and to make this movie, Pierce Brosnan stresses.
But even though he looks back upon his tenure as 007 with gratitude, he has made no secret of his reservations about the part.
– It's a tight jacket, he's a heavy one to wear. A magnificent opportunity for any actor, but once you are playing that role, you are somewhat confined by it. It was great when I was doing it, but ... When you play him, you have a responsibility to a contract. There are only so many avenues you can go down, you don't want to be breaking the magic.
Even today, Brosnan's lips tighten in a twinge of bitterness when recalling that phone conversation in 2004 where the Bond producers, Barbara Broccoli and Michael G. Wilson, informed him that he would not return as 007 after nine years in the role.
– I kind of knew, even though I was very upset and angry. I could rationalize and intellectualize why the changes were made, it's just that they closed the door at such a late time in the proceedings, he explains.
He says he would have loved to give Bond a final go-round. But EON's masterminds wanted to reboot the franchise starring Daniel Craig as a younger, buffer Bond. The die was cast.
– It all works out one way or the other, it always does. You just have to have patience, he muses.
– I would be forever Bond to that generation, and that's the joy of it.
The Bond franchise's imminent 50-year anniversary in October 2012, culminating in the release of the 23th chapter in the EON series, "Skyfall", doesn't seem to concern Brosnan much.
– That's Daniel's problem, he states with a crooked smile.
He does however give a lot of thought to an upcoming event in his personal life. Pierce Brosnan turns 60 in May 2013, and to him, 60 is not just another number, but a milestone that invites reflection.
– I cruised in over 50, and I was good. 51, 52, 53, a little bit of turbulence. Psychic turbulence. Then you creep up the ladder there, and ... The body, the mind, the judgment of life. You have to stay alert. You become more passionate about being alive and being present with your children. You don't have the same nerves about acting. You still get nerves. Wednesday will be the first day on the set of my next movie with Toni Collette and Imogen Poots ("A Long Way Down", ed.). I'm caught between this world and that. But I still have the passion and drive to try to be great, Pierce Brosnan says.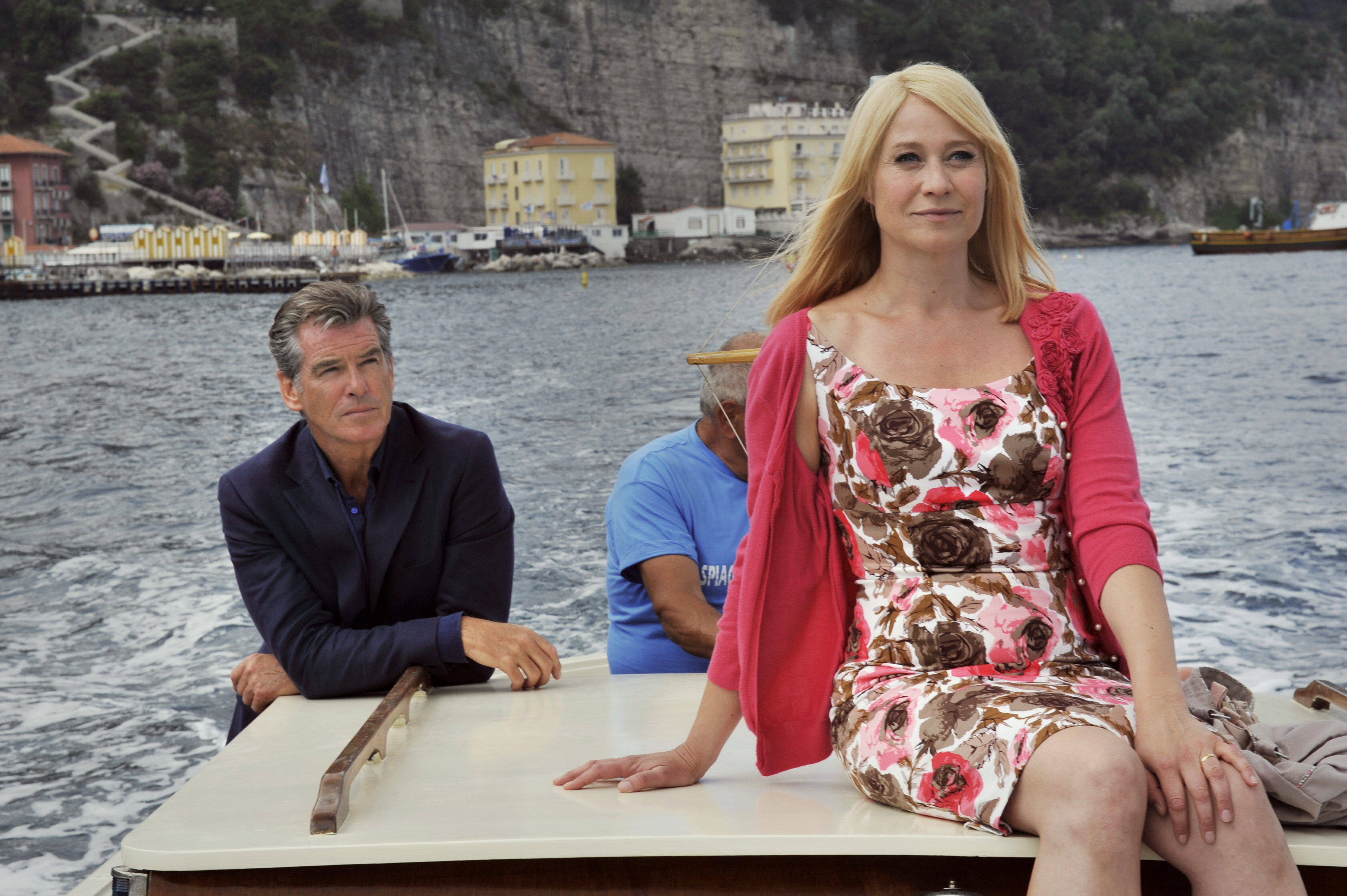 Pierce Brosnan on Susanne Bier (director)
– Sus is very beguiling, bedazzling, vivacious. She's a joy and a warrior on set. She can be quite demanding, infuriating, bossy, opinionated. Steely. But then she's quite delightful – a seductress. Sexy. She's the leader. And you trust her. She's got a great ear and eye, and she gets away with blue murder!
Susanne Bier on Pierce Brosnan
– He's completely dignified at all times. Has a devilish sense of humour [and] is just as courageous [as Trine Dyrholm, ed.] and, obviously, superattractive. When you look at him and Trine, they look restrained, but once they start acting, there is nothing of that at all.
Trine Dyrholm (co-star) on Pierce Brosnan
– He's really charming and a gentleman. He's also bright and fun. I was very nervous about meeting him, because he's such a huge star. But at the first rehearsal, he just grabbed my hand and looked me into the eyes and read from the script. That made me relax completely. He just invited me into his space. He's so down to earth and a very generous person. Easy to fall in love with, I must say. I think all the women on the set actually did. Some of the men too, actually!
---
BONUS MATERIAL:
Pierce Brosnan on doing an ironic spin on his James Bond image in Austrian TV commercials for the Spar supermarket chain:
– I've done a few of these now, these little vignettes now. That's the Bond role being the gift that keeps giving. If you have a sense of humour about yourself and what you've done, you can go off and do these commercials around the world that play on that Thomas Crown or Bond persona that you've painted yourself into a corner with. It's just great fun.