INTERVIEW

On Monday October 5, 2020, Vic Armstrong turns 74. The legendary English stunt performer began his Bond career at the age of 20 when he was the first ninja to slide down a rope into Blofeld's volcano lair in "You Only Live Twice" (EON 1967).
Vic Armstrong since doubled for George Lazenby in "On Her Majesty's Secret Service" (EON 1969), Roger Moore in "Live and Let Die" (EON 1973) and Sean Connery in "Never Say Never Again" (Taliafilm 1983) before graduating to second unit director and stunt co-ordinator on three of Pierce Brosnan's Bond films: "Tomorrow Never Dies" (EON 1997), "The World is Not Enough" (EON 1999) and "Die Another Day" (EON 2002).
> Read our previous interview with Vic Armstrong from "Bond in Motion" (2014)
Bond•O•Rama.dk met up with Vic Armstrong again in Switzerland in June 2019 during the "OHMSS50" anniversary celebration at Piz Gloria/Schilthorn. We had a chat about Vic's second unit work on "On Her Majesty's Secret Service" back in 1969 and some of the other exotic Bond locations he has had the privilege of working on.
Of all the filming locations you've worked on for the Bond films, which one is your favourite?
They're all fantastic, but this [Piz Gloria and Schilthorn] is iconic. I was here for three-four months [for "OHMSS" in 1969]. It just went on and on with the second unit. We stayed through. The snow came, and it melted while we were still shooting. Fabulous.
I'd only been in the business about five years when I got the call to come here, and I was one of the second group of stuntmen to arrive. We came here basically to do the attack at the Schilthorn where the helicopters come in and we jump out with the flamethrowers, jump into the snow, then run up and attack Blofeld. So we did that. Then we did the car chase down in Lauterbrunnen, and then I stayed up with the second unit and we did all the rest of it. I remember the first night I arrived it was dark when I got here, and they sent us down to Stäger [the local sporting goods store] to get fitted for ski equipment. They said, "Would you mind learning to ski?". Fine, well, I am paid to do that, you know! So they kitted us out with all the ski gear and I walked back to the hotel. It was a moonlit night in the winter, and it was absolutely stunning. I was looking across at the Eiger ... Ah. It was bright as daylight. Just amazing. I've never forgotten that.
I remembered the area where we were shooting when I was asked to do a sequence on "The Golden Compass" (2007). It was supposed to be in the North Pole, and I said, "I know a place in Switzerland". "No, the mountains are too high in Switzerland," they said. "No, 12.000 foot mountains, but we got 10.000 feet and only 2.000 feet above us because we are on this glacier. It's at the Jungfraujoch at the back of the Eiger." I remembered it from this film 40 years before. And we went up there with Daniel Craig [for "The Golden Compass"].
That's the great thing about the Bonds, that they do find these exotic unique locations. Not so much now, I don't think. When I did my last Bond with Pierce Brosnan I read the script, it said Tokyo, Cuba, and Korea. We ended up shooting in Malaga for two days, Aldershot for about three weeks as Korea. That was it.
Is it true that the film crew had to truck in snow from somewhere else for the alpine scenes in "OHMSS"?
Not for me. They did downtown before I arrived. When I arrived there was snow here for the attack on the Schilthorn. ANd then the snow came for the winter. We never had any issue with snow. We had snowy days which they didn't want. Every day off we had was sunny, but then every working day was snowing and mist, you couldn't see anything, couldn't film. But every day off we had was like this! We tried changing days, Sunday off, Saturday off, Tuesday off. Every day we had off it was sunshine, and the rest of the week ...!
Someone once claimed that Eon provided free liqueur for the entire crew while at Schilthorn?
Don't think so. Not that I am aware of, not on the second unit anyway. We worked hard, and then we partied after work. You do your work first. Business comes first.
Were you doubling George Lazenby when he's about to fall off the cliff during the ski chase?
Over the cliff in Stechelberg, yeah. I did that where the cable car comes up from Stechelberg, the cliff face there. Scary, scary. Because cables break. But you know, it's one of those things you do, you prepare it, and you do it, it's fine. Part of our job, preparation.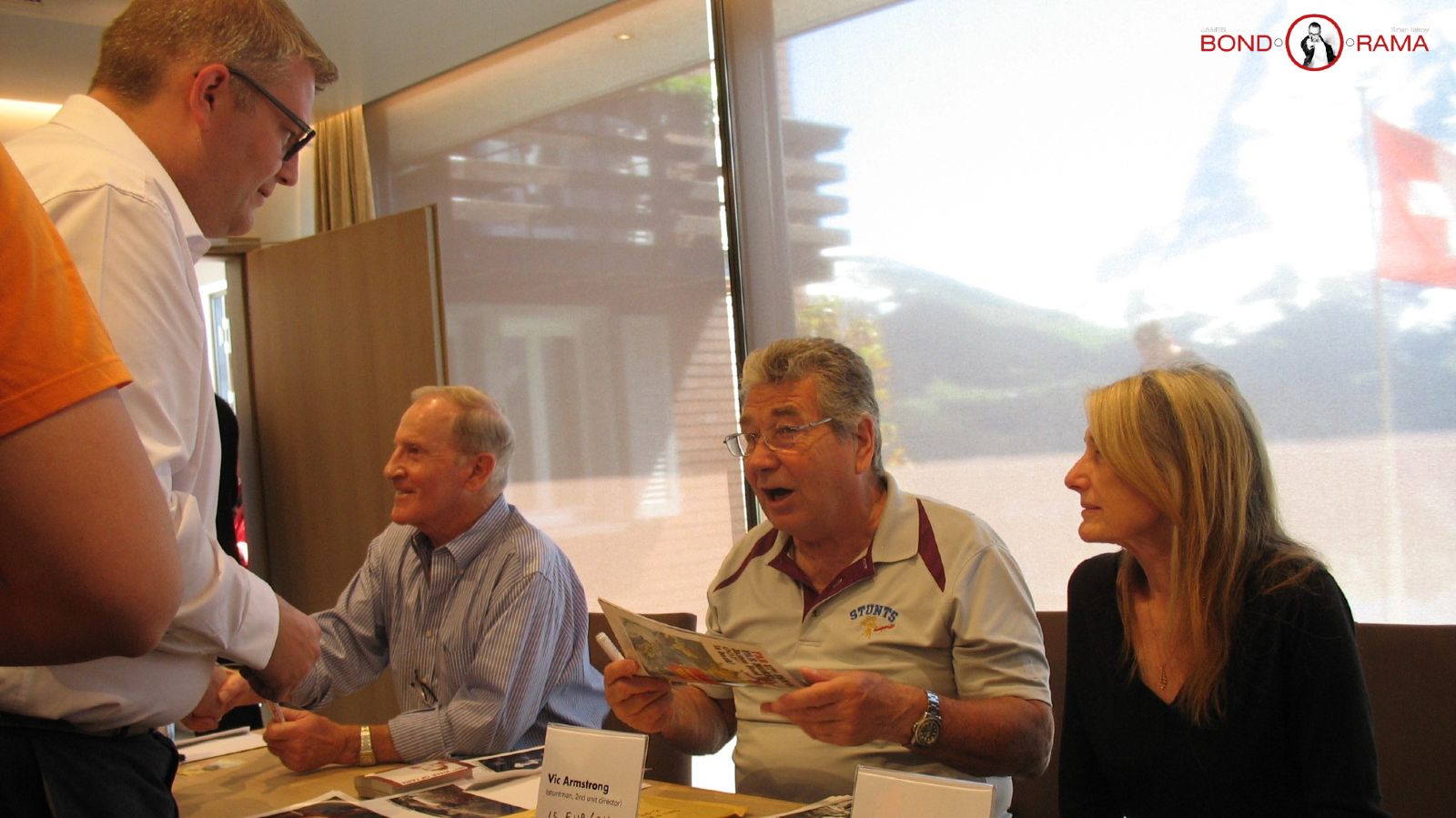 Where did you do the horseback jump into the ocean for "Never Say Never Again"?
Antibes in the South of France. My wife [Wendy Leech] did that [with me]. We jumped in Antibes and we landed in Spain.
What are your other favorite locations from the Bond films that you've been involved with?
I love Chamonix [in France where the skiing scenes in "The World is Not Enough" were shot]. And Iceland, i did the ice car chase among the icebergs [for "Die Another Day"]. That was beautiful, fantastic place. Beautiful weather as well, I was very lucky. Also, I've been to Thailand with them, Vietnam was nice. We've been to some great locations. I've done 16-17 movies in Thailand over the years, been there for 35 years. I love filming there, nice people, good crews.
Where should one go in Thailand if you want to avoid the tourist traps?
I liked Chiang Mai, beautiful. Even in Phuket there are some places that are non-touristy. Phuket is horrible, but outside of Phuket there are some beautiful places. I never went tot he James Bond Island [from "The Man with the Golden Gun"], actually. I've filmed out that way on "Cutthroat Island" (1995) and films like that. We've been very lucky in our business.
Thanks to Vic Armstrong, Schilthornbahn AG and The Switzerland Tourism Council.