For "On Her Majesty's Secret Service" (EON 1969) production designer Syd Cain once again furnished the arch villain Ernst Stavro Blofeld's hideout with Danish Modern.
Disguised as the herald Sir Hilary Bray James Bond (George Lazenby) checks in at the Swiss mountain resort Piz Gloria. His room features two pendant lamps created in 1964 by the famous Danish designer Verner Panton (1926-1998). Each of the Fun 0DM lamps (DM is short for the German term "Decken-Montage" meaning ceiling-mounted) consists of a four-ring chrome-plated metal frame with natural sea shells discs. The lamps are clearly visible around the film's 56-minute mark (Blu-ray) as Bond is checking the lamp for hidden microphones. Early versions of the Fun 0DM lamp were manufactured in Switzerland which is also the film's primary location.
● Link to the Fun 0DM lamp at verpan.com
In the same sequence (time code 56:20) Syd Cain reused the iconic Bodil Kjær Office Desk from 1959 as part of the furniture in Bond's room. The free-standing table previously featured in "From Russia with Love" (EON 1963) and "You Only Live Twice" (EON 1967).
Around the two-hour mark Tracy di Vicenzo (Diana Rigg) is seen fiddling with another Verner Panton-designed lamp, the Fun 5DM, in Blofeld's office. Fun 5DM is an extra-large ceiling mounted lamp with two clusters of shells hanging from stainless steel rings.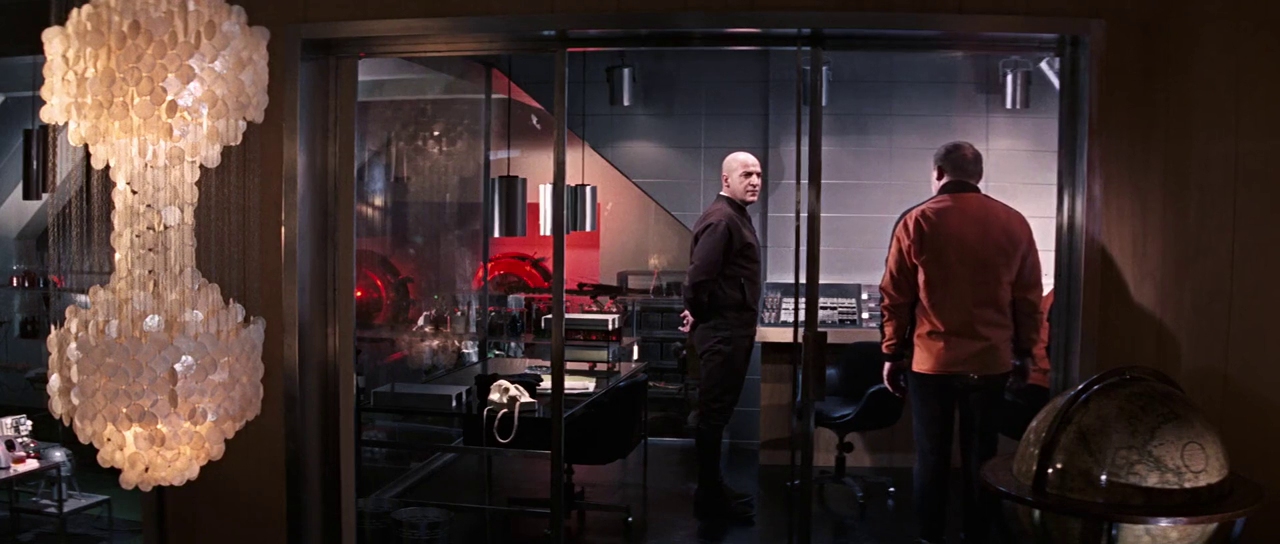 ● Link to the Fun 5DM lamp at verpan.com
"On Her Majesty's Secret Service" is also the only James Bond 007 film to date to feature a song performed by a Danish vocalist. The Yuletide ditty "Do You Know How Christmas Trees are Grown?" which plays as source music twice during the film was composed and arranged by John Barry with lyrics by Hal David and vocals by Danish singer and actress Nina van Pallandt backed by a children's choir.
Snippets of the song are heard at the 47-minute mark when James Bond arrives by train at Lauterbrunnen station and again around the 100-minute mark while Bond is hiding from Irma Bunt and her minions at a skating rink.
In 2012 Nina van Pallandt told Danish writer Jacob Wendt Jensen: "The song "Do You Know How Christmas Trees Are Grown" was not recorded specifically for the film, but it found its way onto the soundtrack anyway. John Barry was incredibly sweet. He's been my musical director several times in London as well as New York. It was a huge thing for me, having a song in a James Bond movie, so I was thrilled. On my first viewing I thought: "Is that really little old Nina from Denmark, appearing in a Bond film?"
● Read all about John Barry and Nina van Pallandt's "Do You Know How Christmas Trees are Grown?"