SPECIAL REPORT
On September 1, Bond•O•Rama will be interviewing George Lazenby in Oslo, Norway. The following report chronicles our previous meeting with the former James Bond 007 at the SciFiWorld fair 2014 in Malmö, Sweden.
Being a film journalist and lifelong James Bond 007 fan, I have had the pleasure of shaking hands with Pierce Brosnan and locking eyes with Daniel Craig's steely blue glare. But I never dreamed that I would get to meet the anomaly that is George Lazenby: The man who played the part just once, only to spend his entire life trying in vain to distance himself from it.
● Read Bond•O•Rama's interview with Pierce Brosnan (2012)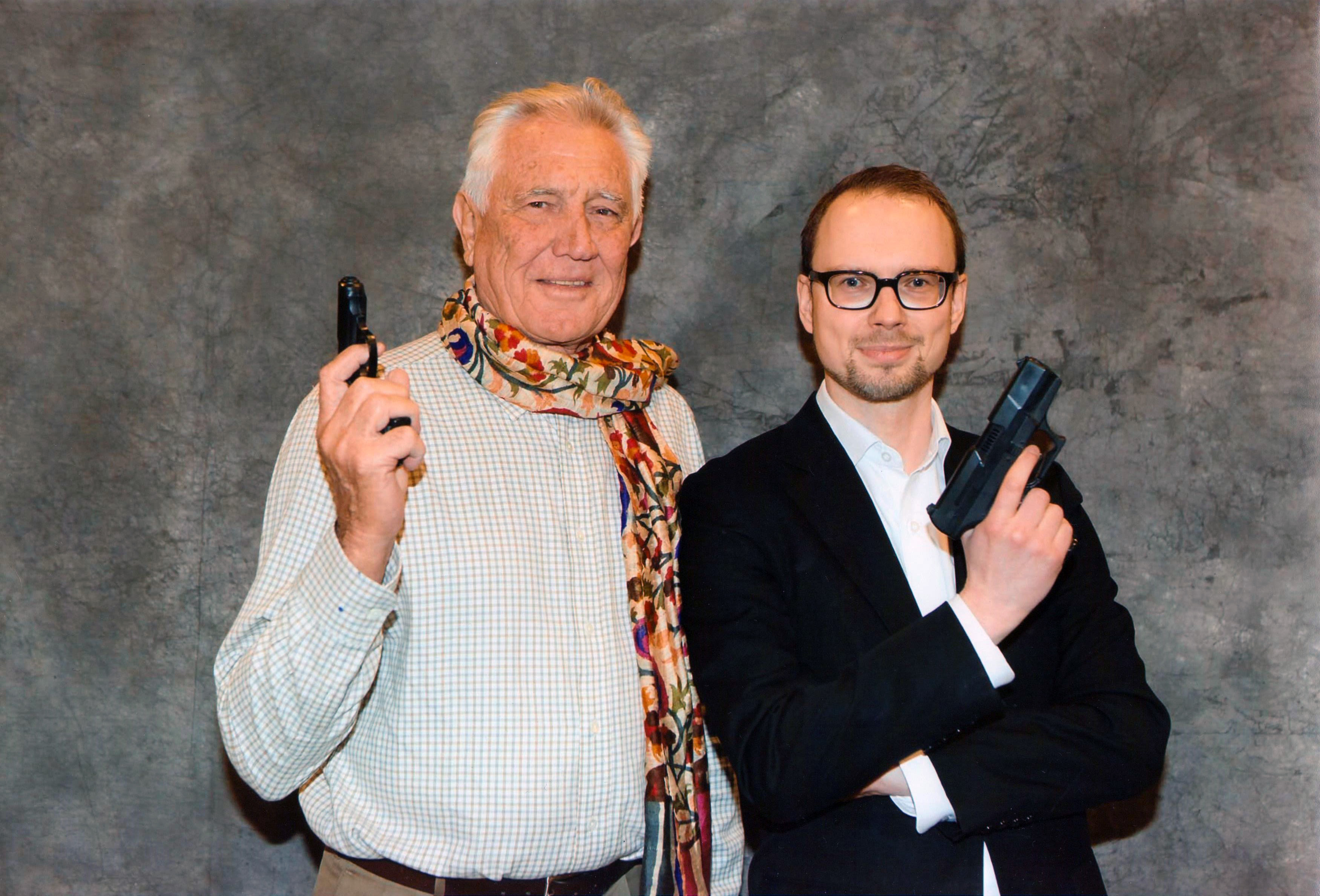 George Robert Lazenby was born on 5 September 1939. The brown-eyed Aussie made film history as the male model who filled in for Sean Connery as James Bond 007 in "On Her Majesty's Secret Service, the sixth film in the EON Productions series.
I'd never been an actor before. I became James Bond through my arrogance and ignorance and not knowing I couldn't do it.
- George Lazenby
Youthful arrogance caused George Lazenby to turn his back on the part of James Bond 007 after his first film, throwing away the chance of a lifetime in the process. He lacked faith in the viability of the James Bond franchise and would rather do "serious" parts, he said, firmly believing that the world was his for the taking.
The bitter irony is that George Lazenby never since landed as strong a part as James Bond 007. Due to his behaviour on the set of "On Her Majesty's Secret Service", he subsequently had to settle for a career in B movies and commercials, with random guest parts on TV.
More often than not, Lazenby was cast solely to reference his past relation to the James Bond 007 role. One such example was the TV film "The Return of the Man from U.N.C.L.E." from 1983, in which Lazenby has a three-minute cameo as "J.B." (nudge-nudge). He even wears a dinner jacket while driving an Aston Martin.
● George Lazenby's cameo as J.B. in "The Return of the Man from U.N.C.L.E." (1983)
In early 2014, the 74-year-old George Lazenby was scheduled to appear at the SciFiWorld fair in the Swedish town of Malmö. This was an opportunity not to be missed. On Saturday 1 March 2014, I met the aging James Bond 007 in a chilly trade fair hall, where Lazenby signed autographs and posed with fans all weekend, while an officious underling charged 200 Swedish kroner for each squiggle or photo.
With his jaded air and a most un-Bond-like coloured scarf around his neck, George Lazenby looked more senior citizen than action hero - which, in all fairness, he is. One got the sense that he only agrees to participate in James Bond-related events such at this if the money's right.
Lazenby did seem amused, however, by the fact that I had brought two toy guns – Walther PPK replicas, obviously – to our photo opportunity. As he was about to hand his toy gun back to me, he suddenly recalled his training from "On Her Majesty's Secret Service" 45 years earlier. He flipped the gun around in his hand, pointing the barrel towards himself. "Always hand it back like this," he said with a smile.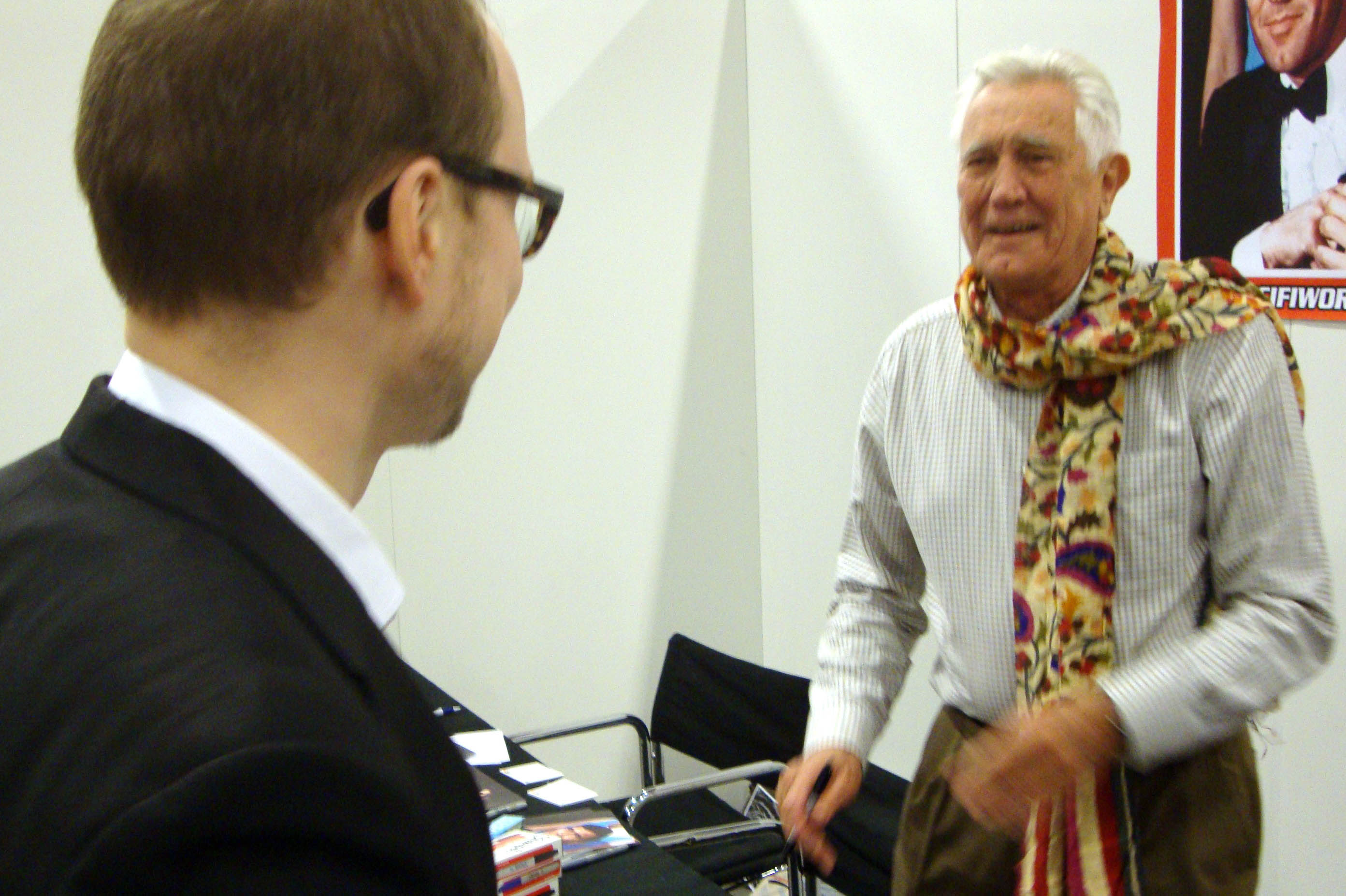 Q&A: George Lazenby talks
Malmoe, Sweden 01.03.2014
At the SciFiWorld fair in Malmoe, George Lazenby did a Q&A, sharing a number of stories about his time as James Bond 007. A particularly colourful anecdote from the shooting of "On Her Majesty's Secret Service" recounted how he invited 40 Portuguese showgirls up to his hotel room and had to call upon Aussie tennis player Lew Hoad for reinforcement. Hoad was staying at the same hotel as Lazenby, and even though the two countrymen had never met before, after that particular night they were friends for life!
George Lazenby on being cast as James Bond:
I never wanted to be an actor. A friend of mine double-dated an agent who wanted to be an actor. I took her out, and next thing, she wants me to go up for James Bond. That's how it happened.
George Lazenby on doing stunt work:
I ended up doing all my own stunts. I didn't know the other guy didn't do 'em. The director's attitude was, "Shit, if we kill him off, we get a second shot. No-one's seen him anyway!" The fight scenes were easy, but I was jumping out of helicopters, hanging off cables thousands of feet up in the air, thinking "What am I doing here?" And I always said, "Bet the other fellow didn't have to do this." And that's where that line came from, "This never happened to the other feller", when Diana Rigg ran off with my car on the beach.
George Lazenby on why he only did one Bond film:
I never signed the contract. I got through the whole movie by sending it back all the time, because I'd ask them to change this and I'd send it back, then change that and send it back. This went back and forth until I'd finished the movie, and I hadn't signed the contract! Harry Saltzman, the producer, came up to me and said, "What are we gonna do to get you to sign the contract?" And I said, "I'm not gonna do another one."
Harry Saltzman offered me a million dollars under the table – what Hugh Hefner paid for the Playboy mansion. Everybody was telling me, "James Bond's over. Finished. "Easy Rider" is in, Bruce Lee is in." All those types of things. They said, "This guy called Clint Eastwood, he can make 500 grand in Italy making a western. He didn't even speak! If you go and do two westerns, they'll give you a million bucks." This was the kind of dialogue I was getting.
So I told them I wasn't gonna do it, and after that, when I got a film offered, I'd get on the film, and [the Bond producers] would ring up and say I'm under contract, and they'd sue them. I got thrown off about fifteen movies. In other words, I was blacklisted.
George Lazenby on getting work after James Bond 007:
I went over to Hong Kong and did three kung fu movies, then went back to Australia and did a little commercial there that kind of kept me going. Cigarette commercial. I didn't smoke. I expected the guy to give me five grand, and he said, "Look. It's only for Australia. Don't say no until you hear what we have to tell you." I'm thinking, "Jesus, I hope they give me five grand." He says, "75.000. That's the most we can pay you." They could have gotten me for five, I was broke. That went on for years, and then I went to America and couldn't get arrested.
George Lazenby on his life after James Bond 007:
Do I regret it? Yes and no. I have six great kids that I probably wouldn't have had. I remember this psychic: "Do you want me to read what would have happened for you if you'd been James Bond? You'd have three big houses in Beverly Hills with three beautiful wives living in them, and you'd be wondering what to do next. You'd probably be a drug addict."
Well, it turns out that I've had three houses, but not in Beverly Hills. Then I had a problem with alcohol for a time. Otherwise, you know, when I look back on my life, I've done what I wanted to do. And I wouldn't have been able to do it if I'd been stuck with James Bond.