COMIC BOOK

007 James Bond: STRENGT FORTROLIGT (For Your Eyes Only)
Writer: Larry Hama (ukrediteret)
Artist: Howard Chaykin, inker: Vince Colletta (both uncredited)
Colourist: Christie Scheele (uncredited)
Cover art: Howard Chaykin (uncredited)
Publisher: Winthers forlag
Editor: Karsten Hansen
Translator/letterer: Torben Osted
Format: 66 pages, colour
Publishing date: 1981
First published in: Marvel Super Special no. 19, vol. 1, 16 June 1981 (Marvel Comic Group, USA)
The only James Bond 007 comic from the Danish publishing company Winthers forlag was a reprint of Marvel Super Special no. 16, "For Your Eyes Only".
"007 James Bond strengt fortroligt" is based on Michael G. Wilson and Richard Maibaum's screen adaptation of "For Your Eyes Only" (EON Productions 1981). This was the first comic book adaptation of a James Bond 007 film since Illustrated Classics' "Dr. No" in 1962 (published in Denmark as "Doktor No" in the anthology series Detektiv-Serien no. 6 from 1963).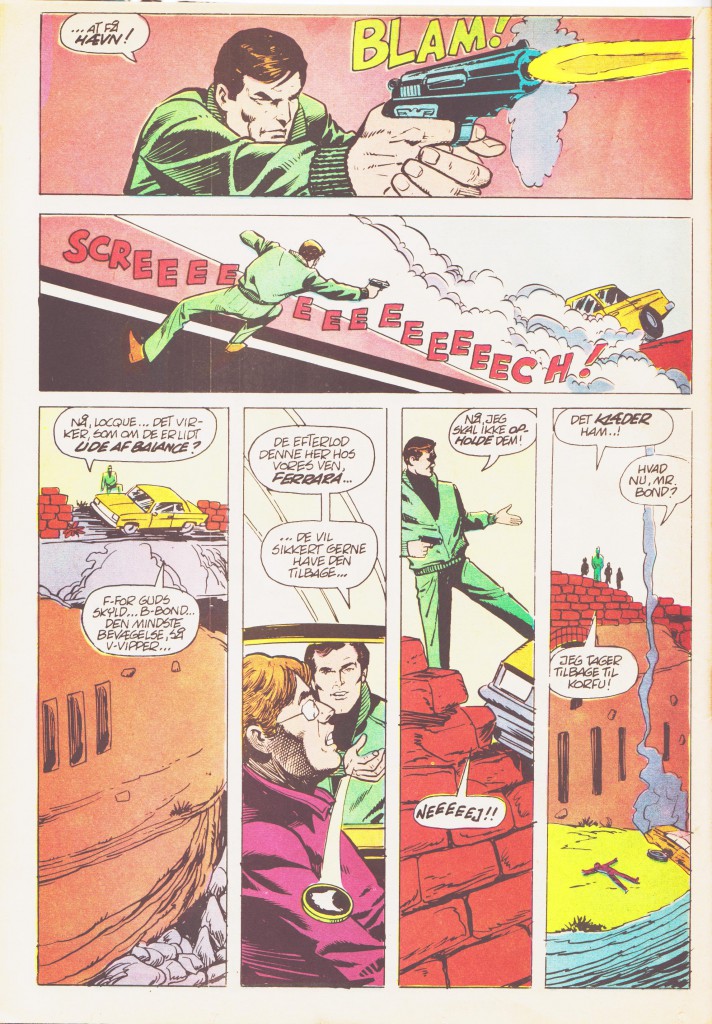 As drawn by Howard Chaykin, James Bond bears only a slight resemblance to Roger Moore in "007 James Bond strengt fortroligt". Curiously, Marvel's comic book version gives Bond many more quips than Roger Moore has in the film.
Other differences between the comic book adaptation and the film "For Your Eyes Only":
• In the first scene of the comic, both Ernst Stavro Blofeld and James Bond mention the 10 year anniversary for their last meeting, which is a veiled reference to EON's "Diamonds are forever" (1971). These lines are actually from the film's screenplay, although they were omitted in the final edit.
• The car chase with Bond and Melina in her Citroën 2CV is much shorter in the comic book version, ending with their pursuers driving off a cliff.
• James Bond enjoys a cigarette while visiting Q's workshop. (Roger Moore's Bond stopped smoking after "The Man with the Golden Gun", 1974).
• The chase sequence on the toboggan run does not appear in the comic.
The Danish edition of "For Your Eyes Only" featured a 14-page article on the making of the film.