COMIC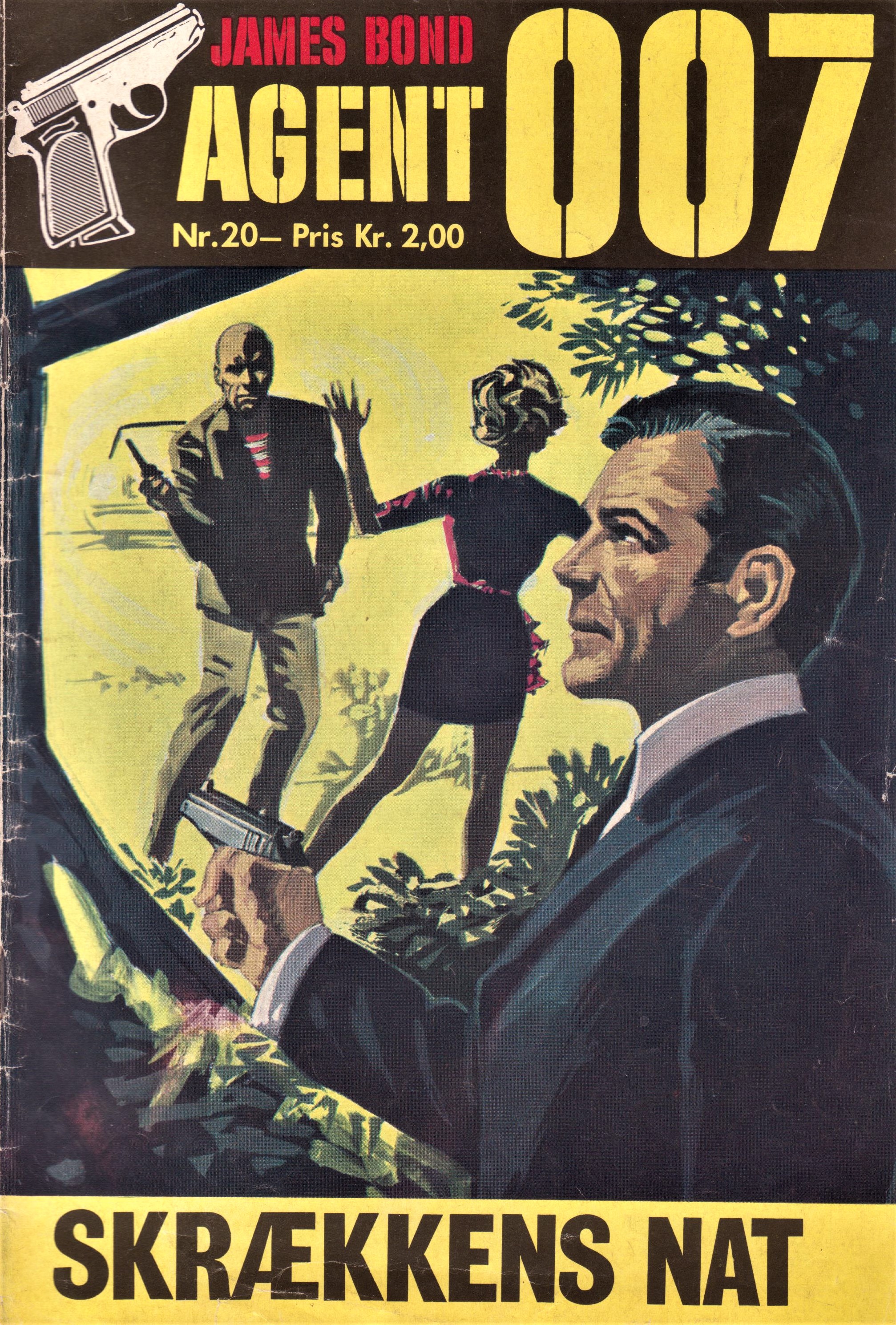 Original title: The Spy Who Loved Me
Writer: Jim Lawrence (uncredited) after Ian Fleming's novel "The Spy Who Loved Me" (1962)
Artist: Yaroslav Horak (uncredited)
Publisher: A/S Interpresse
Editor: Tonny Lützer
Cover artist: (uncredited)
Format: 52 pages
Publishing date: 1970
Originally published in the UK: Daily Express ?-03.10.1968
Danish reprint: None
Note:
The main story in this issue covers the second half of Jim Lawrence and Yaroslav Horak's comic strip adaptation of Ian Fleming's novel "The Spy Who Loved Me".
The first half (consisting of daily strips no. 603 to 707) was published in Danish in James Bond Agent 007 no. 18/1969 as a separate story named "Operation Spøgelsesfly" [Operation Ghost Plane].
Contents:
"Rædslernes nat" [Night of Terrors] (39 pages of newspaper strips reformatted to 17x26 cm magazine format)
B&W still of Harold Sakata, Sean Connery and Tania Mallet in "Goldfinger" (½ page)
B&W still of Michael Brennan, Sean Connery, Philip Locke and Luciana Paluzzi in "Thunderball" (½ page)
"Skindød" [Suspended animation] (Bardon/SS, 9 pages)
B&W still of Sean Connery and Karin Dor (described in the caption only as "a gorgeous co-star") in "You Only Live Twice" (1 page)
"James Bond og kvinderne" [James Bond and the women] (1 page): colour photos of Molly Peters, Claudine Auger, Sean Connery, Martine Beswick and Luciana Paluzzi [spelled Luciana Baluzzi in the caption] from "Thunderball"; Sean Connery, Tetsuro Tamba and Japanese bathing ladies from "You Only Live Twice"