Only one of the 27 James Bond 007 film adaptations (to date) is set around Christmas.
Only this James Bond film contains a newly-composed Christmas song written by John Barry and Hal David.
Only this James Bond tune was originally recorded by a Danish vocalist.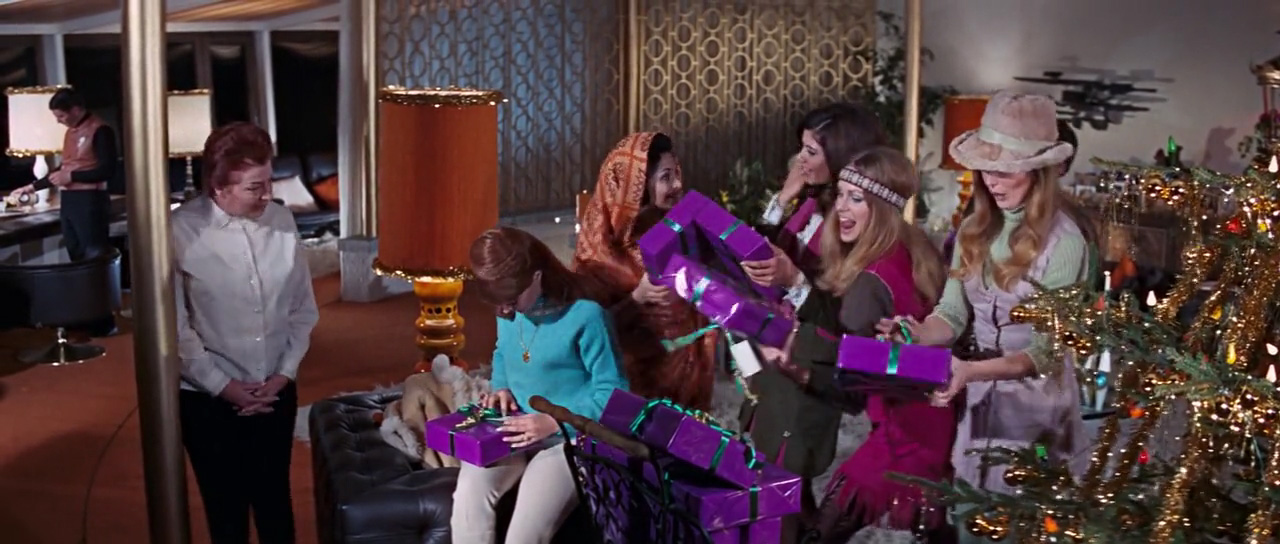 The Christmas song "Do You Know How Christmas Trees are Grown?" appears as source music in the film version of "On Her Majesty's Secret Service" (EON Productions 1969). The track, arranged by John Barry, is sung by Danish singer/actress Nina van Pallandt and an unnamed children's choir. Phil Ramone is credited as producer of the session which took place at CTS Studios in London.
The lyrics for the song were written by Hal David, who previously collaborated with John Barry on Tom Jones' "Thunderball" (1965) and Shirley Bassey's "Diamonds are Forever" (1971). In Jon Burlingame's book "The Music of James Bond" (Oxford University Press 2012), Hal David says that in the case of "Do You Know How Christmas Trees are Grown?", he delivered a finished Yuletide poem to John Barry who then put it to music:
"I think it's the only time, with John, that I wrote the lyric first".
In the clip below, Nina van Pallandt lip-synchs to her recording of "Do You Know How Christmas Trees are Grown?" in the British TV special "Morecambe and Wise Christmas Show" (BBC 25.12.1969):

In the 1950's, Nina van Pallandt was well-known in Denmark as one half of the singing duo Nina & Frederik. She later moved abroad to pursue an international career. While Nina & Frederik performed in concert venues and cabarets in London in 1962, they recorded four Christmas standards, arranged and conducted by John Barry, for an EP released on Columbia in November that year. Of the four tracks - "White Christmas", "Silent Night", "Away in a Manger" and "Santa Claus is Coming to Town" - the first two were also issued as a 7 inch single.
While researching the biography "Nina van Pallandt - hellere tro på det gode en gang for meget" (published in Denmark by People's Press) in 2011, Danish writer Jacob Wendt Jensen spoke to Nina van Pallandt about her participation in the James Bond Christmas carol. The following quote appeared in Jacob Wendt Jensen's book "Agent 007: De danske forbindelser" (Byens forlag 2012):
"The song "Do You Know How Christmas Trees Are Grown" was not recorded specifically for the film, but it found its way onto the soundtrack anyway. John Barry was incredibly sweet. He's been my musical director several times in London as well as New York. It was a huge thing for me, having a song in a James Bond movie, so I was thrilled. On my first viewing I thought: "Is that really little old Nina from Denmark, appearing in a Bond film?"
Jacob Wendt Jensen's 2012 book also quotes this paragraph from Nina van Pallandt's autobiography "Nina", which was published in Great Britain by Walker in 1973: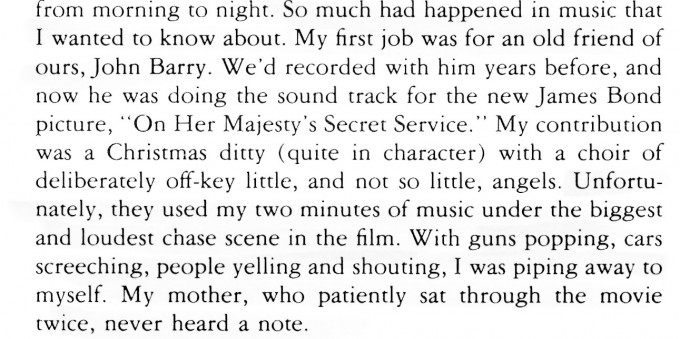 Nina van Pallandt's original recording of "Do You Know How Christmas Trees are Grown?" can be heard briefly during two scenes in the film "On Her Majesty's Secret Service". The song is first piped through the train station's sound system 47 minutes into the film, as James Bond (George Lazenby) arrives by train to Lauterbrunnen i Switzerland. Later, 100 minutes in, a snippet is played at the skating rink where Bond tries to hide from Irma Bunt and her goons.
"Do You Know How Christmas Trees are Grown?" appears on the soundtrack album for "On Her Majesty's Secret Service" with the vocal simply accredited to "Nina". This same recording was issued as a 7-inch single on CBS 28 November 1969. Nina recorded another John Barry/Hal David original, "The More Things Change", for the B-side.
Elsewhere in Europe, local artists recorded their own cover versions of "Do You Know How Christmas Trees are Grown?" in their native languages. These were mixed into the German and French dubs, respectively, of the film "On Her Majesty's Secret Service". Thus, German cinema audiences heard Katja Ebstein singing "Wovon traümt ein Weihnachtsbaum im Mai?" during the scenes mentioned earlier:
In France, Isabelle Aubret performed the song as "Savez-vous ce qu'il faut au sapin de Noël".
In the United States, Jackie DeShannon re-recorded the song in a new arrangement by Rene Hall. This version, handsomely produced by Sam Russell and Irv Hunt, was released as a single in late 1969.
Martine Bijl from the Netherlands recorded "Waarvan wordt een denneboompje groot" for her Xmas album "Kerstmas met Martine" in 1970:
The Kapp label issued a 7-inch single with Do-Re-Mi Children's Chorus performing "Do You Know How Christmas Trees are Grown?" in an arrangement by Marty Gold. Please note: This version is not for the faint-hearted. Proceed at your own peril!
Finally, the perennial James Bond cover band Eric Winstone Big Band, whose recordings are constantly reissued under different names, did their take on "Do You Know How Christmas Trees are Grown?" for the album "Eric Winstone Plays 007" (1973):
James Bond•O•Rama wishes everyone a very Merry Christmas.