NON-FICTION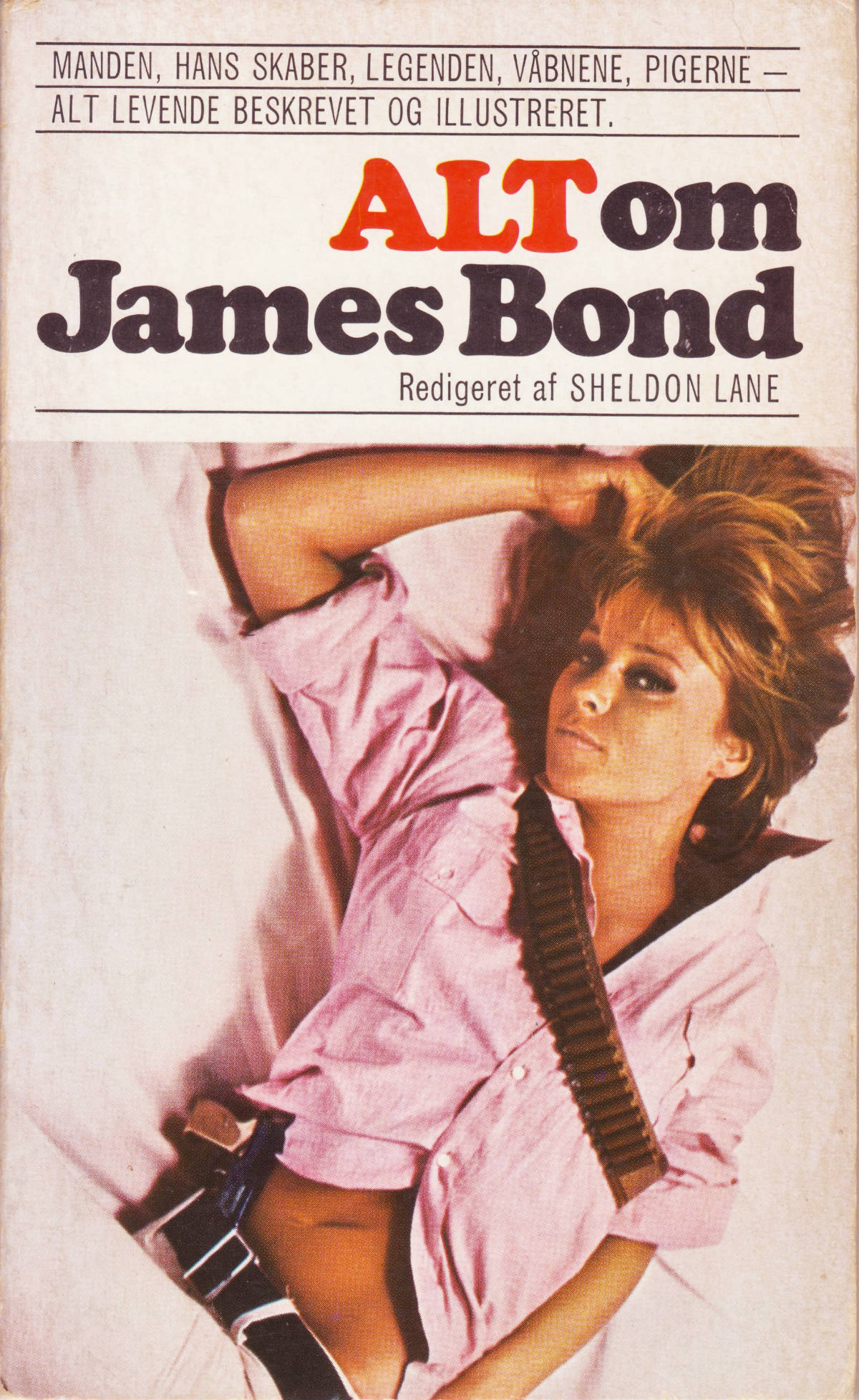 Alt om James Bond (1967)
Compiled and edited by Sheldon Lane
Danish first edition paperback
Original: For Bond Lovers Only (Panther Books Limited, 1965)
Publisher: Winthers forlag
Translator: Grethe Rothenborg
Cover artist: uncredited

This collection of essays, published in Great Britain as "For Bond Lovers Only", contains the following:
● Introduction for Bond Lovers only by editor Sheldon Lane
● "007 and Me": Ian Fleming interviewed by crime writer Jack Fishman
● "The Blood Guts and Girls Man": Sean Connery interviewed by Sheldon Lane
● "Room 39": Sunday Telegraph editor Donald McLachlan on his time with Ian Fleming in Naval Intelligence
● "Rendezvous with the Man from the Ipcress File": Peter Evans recounts a meeting between Len Deighton and Ian Fleming
● "The 007 Armoury": Jack Thomas on Bond's weapons and Ian Fleming's correspondence with Major Geoffrey Boothroyd
● "Bond's Broads": Quotes from Sean Connery, Diane Cilento, Ursula Andress, Daniela Bianchi, Shirley Eaton, Margaret Nolan, Honor Blackman, Claudine Auger , and Ian Fleming
● "I Spy - through the Camera Eye": 16-page glossy B&W pictorial insert of Bond girls and weapons [Note: "For Bond Lovers Only" had 48 full pages of photos]*
● "The Thriller Business": A verbal exchange between Georges Simenon and Ian Fleming refereed by Frederick Sands
● "Talking about Spies": J. Bernard Hutton, expert on Soviet Russia and Communism, recounts his meeting with Ian Fleming
● "Iced Water and Cool Customers": Thriller writer Raymond Chandler interviewed by Donald Gomery
● "The Man Who's Got 007's Number": The personal file on Sean Connery, opened by Henry Gris and Sheldon Lane
● "The Spy Boss Who Loves Bond": Interview with CIA Director Allen Dulles
*Pictured in the Danish edition are Aliza Gur, Martine Beswick, Eunice Gayson, Mitsouko, Molly Peters, Gloria Paul, Sylvia Koscina, Shirley Eaton, Vicki Kennedy (= Margaret Nolan), Zena Marshall, Ursula Andress, Nadja Regin, Daniela Bianchi, Honor Blackman, and Claudine Auger.
The chapter on "The 007 Armoury" (p. 54-73 in the Danish edition) contains a few historical passages of special interest to Danish readers. The following excerpts are quoted from the English paperback edition of "For Bond Lovers Only", p. 43-57:
"The great Jørgen Schmidt, 'Citronen' of the Danish Resistance, had a similar idea. He was wounded and captured on September 19th, 1944, during a round-up in Copenhagen. A 6·25 pistol tucked into his sock enabled him to kill the guard in the ambulance taking him to Gestapo Headquarters. He later died gallantly in a blazing house on Jaegersborg Allee after standing off 200 Gestapo men and soldiers for a whole night. But that is another story."
(p. 57-58 in the Danish edition)
"Determination is all. During the early days of the Danish Resistance, before arms droppings were organized from Britain, secret workshops turned out pistols, revolvers and even sub-machine-guns made from cycle-frame tubing, scrap metal and lumber. They killed just as effectively as the latest products from Sam Colt. You can still see specimens in the Resistance Museum in Copenhagen."
(p. 60 in the Danish edition)
"The gallant Danes operating the escape routes from Tuborg Harbour and from Elsinore, were somewhat hampered in their efforts when the Gestapo enlisted tracker dogs to smell out fugitives concealed in the Sweden-bound ships. Undeterred, doctors and chemists got together to devise a powder composed of dried blood and certain drugs which anaesthetized the dogs' noses and completely destroyed their sense of smell. Things like that really happened, and are happening in the never-ending underground war today. Remember this when, putting down a Bond book, and you are tempted to reflect that the story was rather far-fetched."
(p. 72-73 in the Danish edition)
Back cover: