NOVEL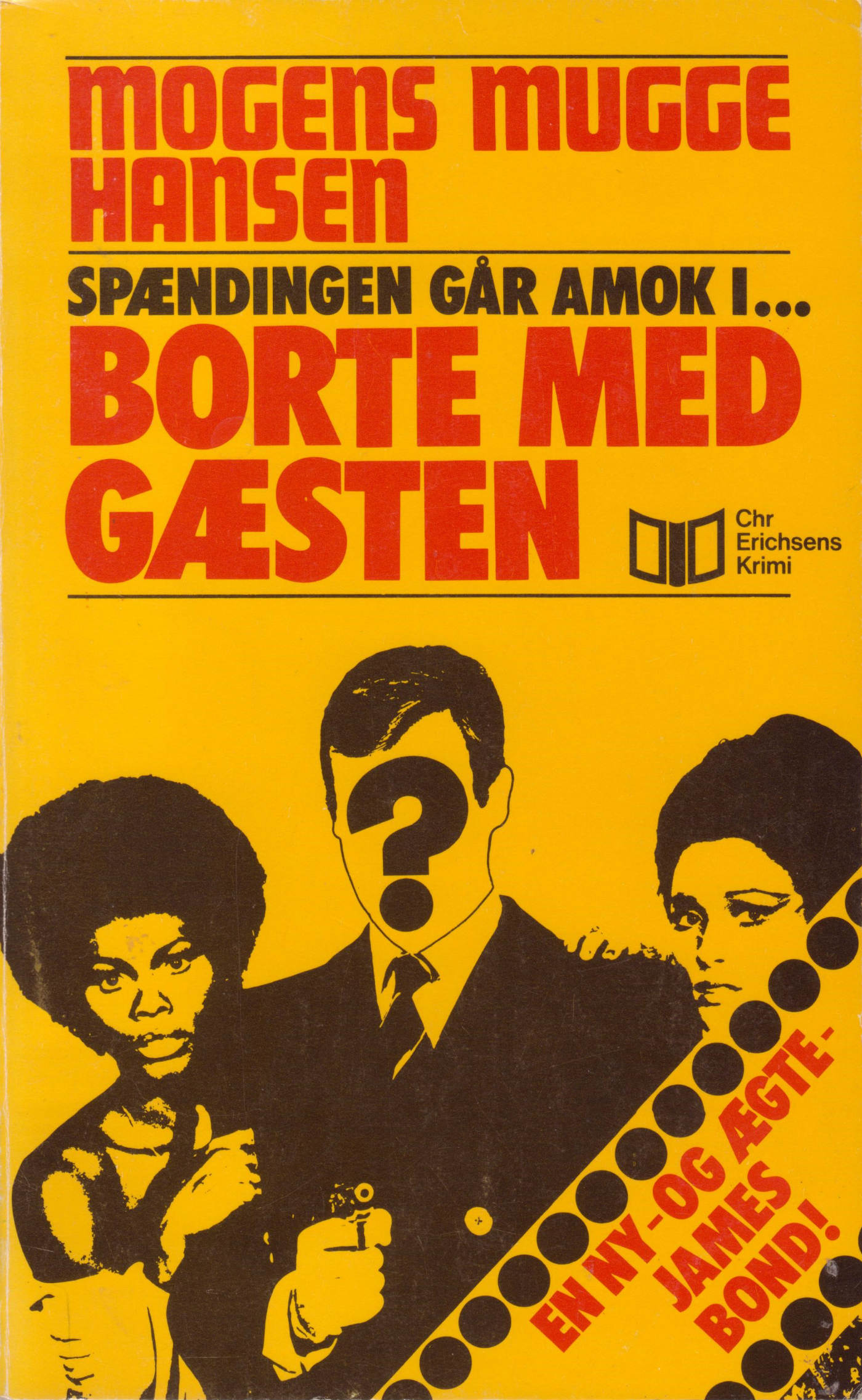 Borte med gæsten (Gun with the Wind, 1976)
Mogens Mugge Hansen
Danish first edition, paperback
Publisher: Chr. Erichsens Forlag
Cover art: Designgrafik
Publishing date: 14.09.1976
Format: 116 pages
On 14 September 1976, Chr. Eriksens Forlag published a Danish James Bond 007 novel titled "Borte med gæsten" (cheekily translated into English as "Gun with the Wind" in the colophon). The publishing house clearly did not obtain permission from Ian Fleming's estate, Glidrose Productions Ltd., which makes "Borte med gæsten" an unauthorized James Bond product despite the ostentatious cover blurb "A new – and genuine – James Bond!". The dubious legality did however not deter another publishing house, Lindhardt & Ringhof, from reissuing "Borte med gæsten" as an e-book on 16 March 2017.
"Borte med gæsten" was written by Mogens Mugge Hansen (1937-2004) who worked as a royal correspondent for the Danish weekly tabloid SE og HØR for decades. Mugge, as he was known, had seven novels published during his lifetime. In an interview with Danish daily Aalborg Stiftstidende on 15 October 1976 Mugge was confronted with a quote from a review claiming "Borte med gæsten" to be "literary theft". Mugge countered that his Bond novel should be considered as "research into James Bond". Another daily, B.T., claimed that "Borte med gæsten" was to be the first in a series of Danish-made James Bond novels. This proved not to be the case.
The story of "Borte med gæsten" revolves around James Suzuki, James Bond's illegitimate child with Kissy Suzuki. It is a curious hotchpotch of quotes from official Bond books, esoteric meta exercises and clumsily written pastiche. Mugge spends almost 20 pages of his 116 page novel lifting long sections of text verbatim from Ian Fleming's "You Only Live Twice" (1964) and John Pearson's fictional biography "James Bond: The Authorized Biography of 007" (1973). Mugge even neglects to credit the original Danish translators of the texts.
● "Borte med gæsten" e-book in Danish only (external link)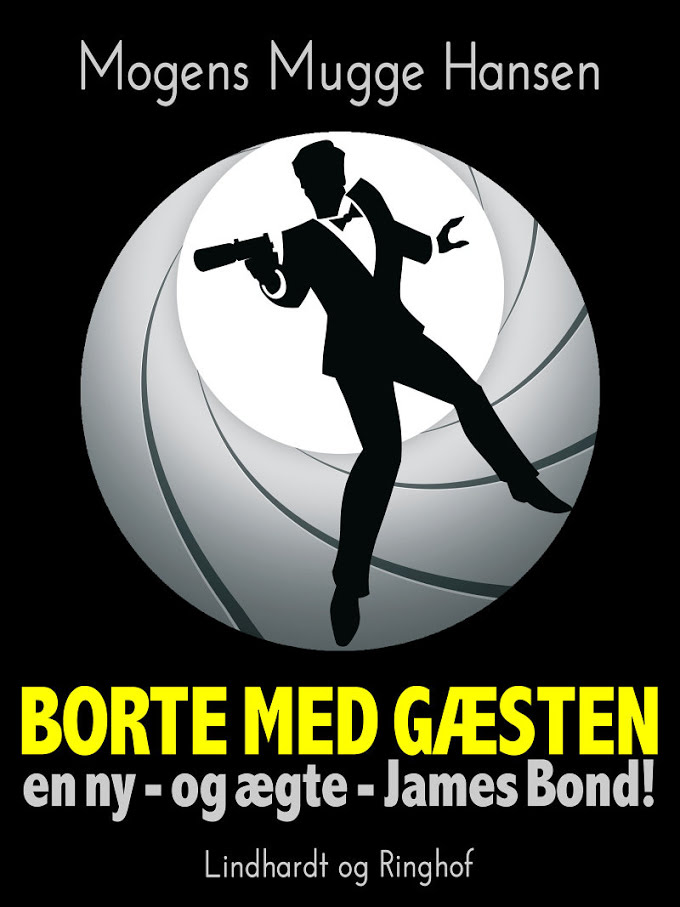 Promotional blurb by Lindhardt & Ringhof:
"Mogens Mugge Hansen resurrects James Bond long after the death of the superagent's creator, Ian Fleming. Sonne [sic] sends the secret agent on a breathless and hair-raising race to prevent World War III. The book oozes pent-up excitement and surprising twists in the inimitable style of Agent 007.

Mogens Mugge Hansen (1937-2004) was a royal court correspondent for many years and wrote a lot of books in addition to his work as a journalist. As a writer he worked in many different genres such as crime stories, celebrity reporting and true crime. In 2003 Mogens Mugge Hansen was decorated with a silver medal for meritorious services by Queen Margrethe II of Denmark."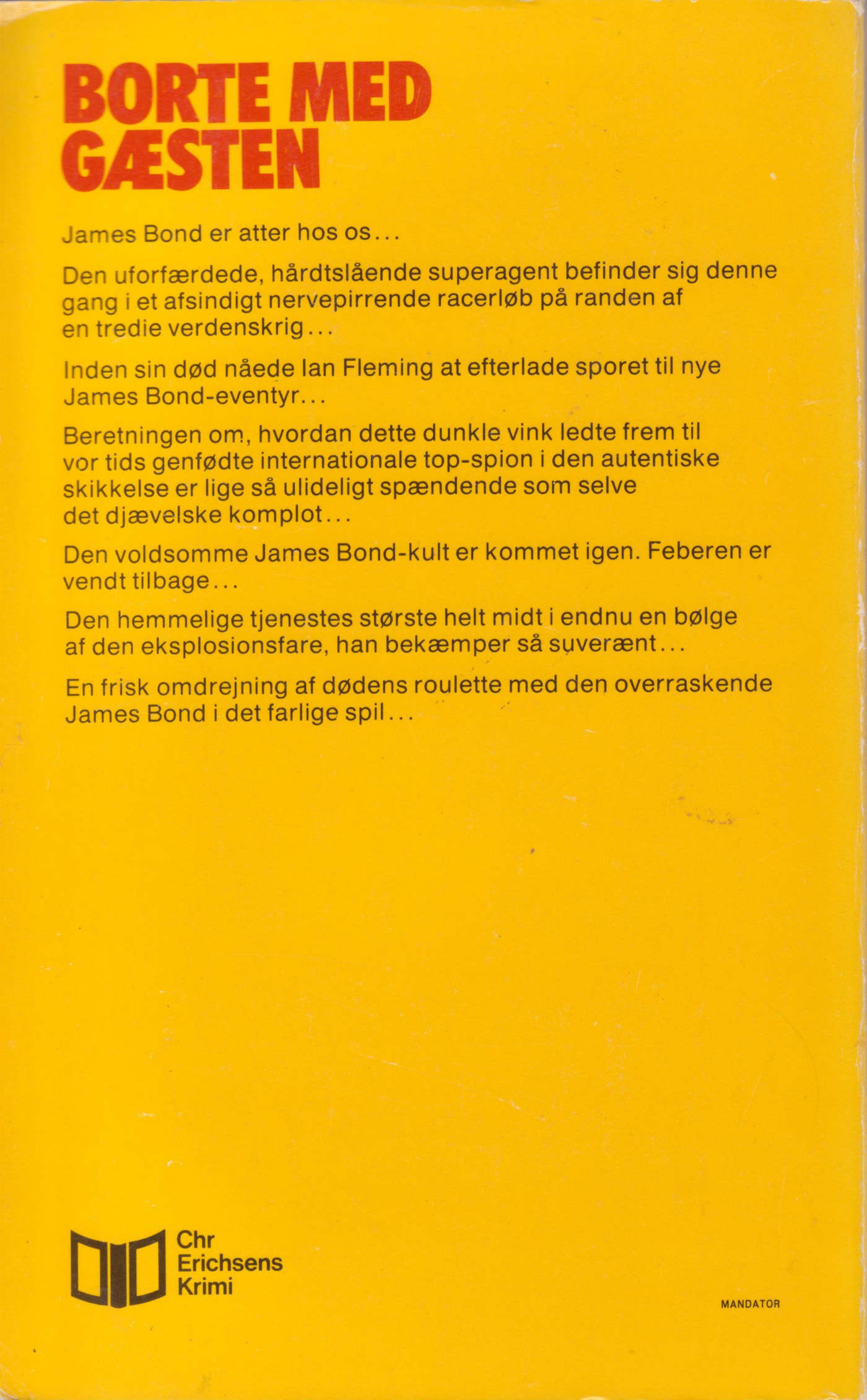 Back cover blurb:
"James Bond is with us once again ...
This time the intrepid, hard-hitting super agent finds himself in a nerve-racking race on the brink of a third World War ...
Before his death Ian Fleming left behind clues to new James Bond adventures ...
The story of how this shadowy wink led to the rebirth of our time's international top spy in his authentic form is just as unbearably exciting as the devilish plot itself ...
The fierce James Bond cult is back. The fever has returned ...
The greatest hero of the Secret Service in the middle of yet another wave of the explosion hazard he masters so brilliantly ...
A fresh spin of the roulette of death with the surprising James Bond in the dangerous game ..."