This year marks the 50-year anniversary of the release of EON Productions' "On Her Majesty's Secret Service" (1969).
From May 25 to June 2, around 250 James Bond fans from 17 countries gathered for the fan event "OHMSS 50". The ambitious unofficial celebration, arranged by journalist and expert Bond travel guide Martijn Mulder from the web site On the tracks of 007, covered several of the film's locations in Portugal and Switzerland.
Eleven of the cast and crew members from "On Her Majesty's Secret Service" returned to the scene as the caravan of fans reached Piz Gloria on the Schilthorn mountain in the Bernese Alps. Bond•O•Rama's Brian Iskov had the privilege of being an accredited member of the press for the concluding Swiss part of OHMSS50.
● On the tracks of 007 (external link)
● Schilthorn Piz Gloria (official site)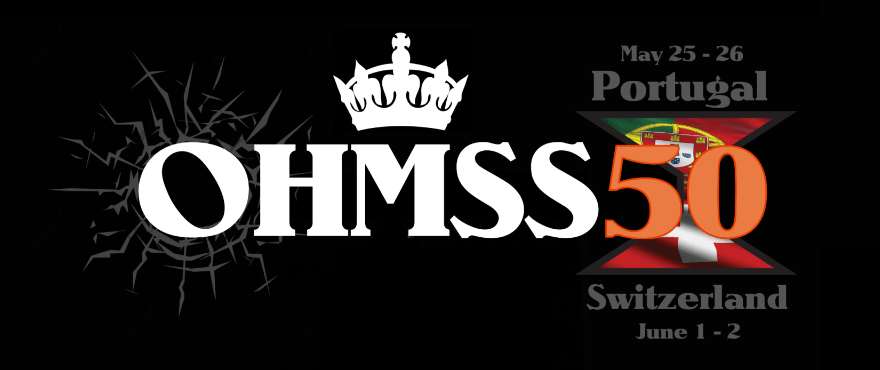 The rotating alpine restaurant Piz Gloria, only accessible by cable car, is of course famous as Bleuchamp's (Blofeld's) Institute for Allergy Research in EON's "On Her Majesty's Secret Service". Nearly all of the film's scenes in The Alpine Room were shot on location after the film crew discovered the half-finished building on the Schilthorn peak during a recce in 1968. Construction had come to a standstill due to financial woes. EON Productions saw that the location perfectly matched the script's demands and agreed to pay for the completion.
When the restaurant opened its doors to the public in 1969, around the time of the film's worldwide release in cinemas, Piz Gloria wisely took its name from the film. The site has capitalized greatly on the 007 connection ever since. In recent times an interactive exhibition (Bond World), a Bond Cinema and an outdoor Bond Walk of Fame has been added to the attractions at the Schilthorn. The crafty Swiss even got away with a unique clause in the contract which allowed them to promote Piz Gloria as an official Bond location - a right that EON Productions has never before or since granted anyone. Thus the gift shop is packed with 007 merchandise not available elsewhere.
The anniversary celebration "OHMSS50" culminated on Saturday June 1 with a stupendous party at Piz Gloria. George Lazenby (007) led the starry VIP line-up, and the magnificent-sounding cover band Q the Music incorporated several of John Barry's musical cues from "On Her Majesty's Secret Service" into their triumphant live concert in the low-ceilinged foyer.
Theser are Bond•O•Rama.dk's exclusive pictures from OHMSS50 at Piz Gloria.
All photos on this page © Brian Iskov/Bond•O•Rama.dk. DO NOT PUBLISH, EDIT OR REDISTRIBUTE ANY PICTURE CONTENT WITHOUT SOURCE REFERENCE.