"The Program", a French-British co-production directed by Stephen Frears ("The Queen", "Philomena"), is released in Danish cinemas today.
"The Program", which premiered in the UK on 16 October, tells the story of professional cyclist Lance Armstrong (played by Ben Foster) and his fall from grace. Armstrong defeated his early cancer diagnosis and went on to win seven consecutive Tour de France titles, all the while denying his use of performance-enhancing drugs.
A special point of interest for fans of James Bond 007 comes during a brief sequence in which Lance Armstrong receives some hard-hitting news from an oncologist at an American clinic.
The doctor is played by none other than Michael Gregg Wilson, who is of course best known as one of the two main producers behind EON Productions' James Bond film franchise. Wilson is credited in the end crawl of "The Program" for his performance as "Lance's Doctor".
The 73-year old Michael G. Wilson has been involved as a writer and/or producer on every James Bond film from EON Productions since "Moonraker" in 1979.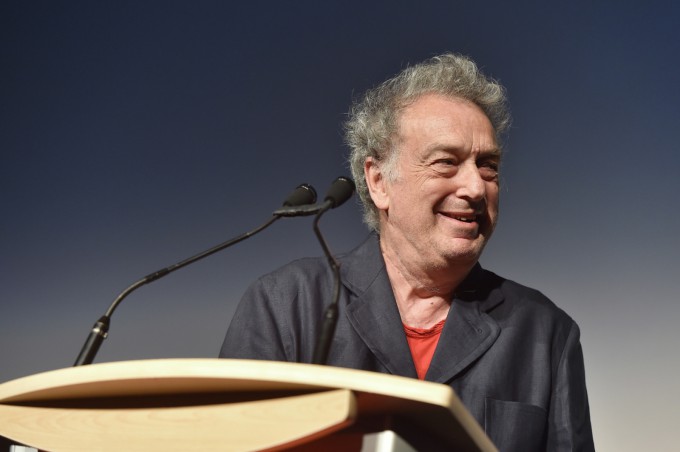 "Listen, you have to suck up to anyone you can!" Stephen Frears joked, when Bond•O•Rama.dk asked him about Michael G. Wilson's cameo part in "The Program" during Toronto International Film Festival, where the film had its world premiere in September 2015.
Stephen Frears continued:
"Lance Armstrong went to a hospital in America. It was a very, very distinguished doctor who treated Lance, and I thought I'd better find somebody substantial to play him. I just didn't want to be frivolous about the doctor."
At the Danish gala premiere of "SPECTRE" at the Imperial cinema in Copenhagen 27 October 2015, Bond•O•Rama.dk had the chance to ask Michael G. Wilson himself about his guest appearance in "The Program" (watch video below).
"Well, he asked me to play a doctor, yes. The oncologist. It was a lot of fun. I enjoyed it," Michael G. Wilson said. He then inquired if I had seen "The Program", which I confirmed.
"Oh, good. Well, alright. Don't give me any reviews," Wilson added, laughing.
Michael G. Wilson also reminisced about his brief cameo apperances in the James Bond film series. To date, Wilson has appeared as an extra or a bit player in 16 of the EON Bond films, starting when he was a teenager helping out his stepfather, Bond producer Albert R. Broccoli, on the American leg of the "Goldfinger" shoot in 1964.
"I was only there for three weeks. We went to Fort Knox, and I worked there as a runner. Third assistant director kind of thing," Michael G. Wilson told Bond•O•Rama.dk.
"It was a necessity at one time, when I was in "Goldfinger", I had to appear just to fill out the background. But you know, it became sort of something that we did; [it] became a tradition".
● Watch the full-length video interview with Michael G. Wilson from the Danish "SPECTRE" gala
In the current Bond smash "SPECTRE" (2015), Michael G. Wilson has a "blink-and-miss-it" walk-on part. He can be glimpsed shaking hands with Max Denbigh (Andrew Scott). The young man accompanying Wilson in this sequence is his son, Gregg Wilson, who is also the film's associate producer. If Michael G. Wilson should ever choose to retire, Gregg Wilson is expected to carry on the EON Productions' James Bond franchise as Barbara Broccoli's main producing partner.
The relationship between Michael G. Wilson and Stephen Frears goes back to 2003, when Wilson and his half-sister and fellow producer, Barbara Broccoli, considered doing a spinoff movie starring Jinx, the Halle Berry character from "Die Another Day" (2002).
Stephen Frears was slated to direct "Jinx" for a short while ("About ten minutes!" Frears chuckled when Bond•O•Rama.dk asked him about it). EON's regular writing duo Robert Wade and Neal Purvis delivered a first draft in 2003, but MGM decided not to go forward with the project, apparently to the dismay of Wilson and Broccoli.
● Read Variety's original news item about "Jinx" (October 2003)