ROMAN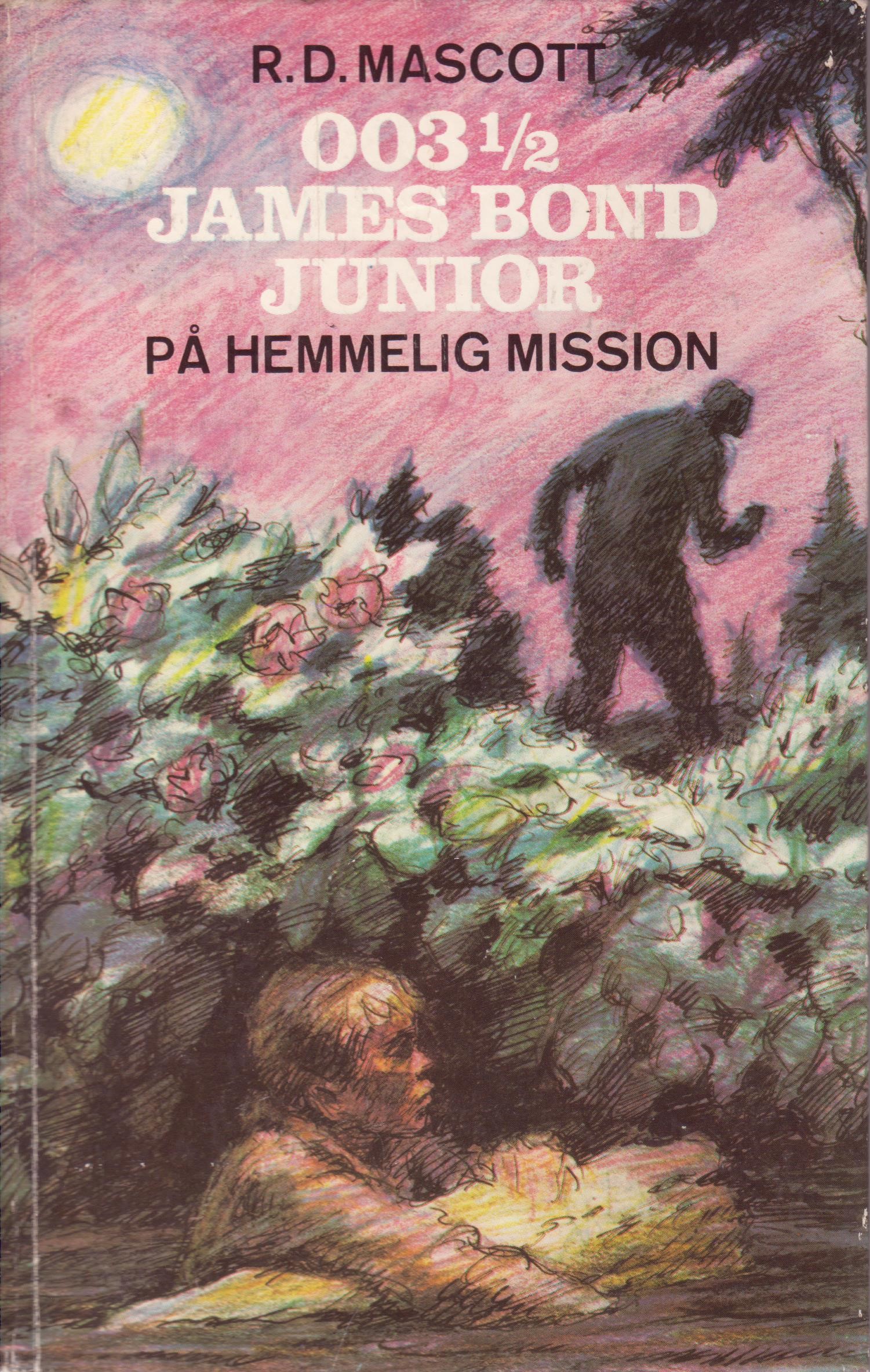 003½ James Bond junior på hemmelig mission (1970)
R.D. Mascott (= Arthur Calder-Marshall)
Dansk førsteudgave, hardcover
Original: 003½ The Adventures of James Bond junior (Jonathan Cape 1967)
Forlag: Lademann Forlagsaktieselskab (Lademanns læseheste)
Oversætter: Per Skar
Omslag: (ukendt)
En lidet kendt knopskydning af den litterære James Bond 007-franchise er "003½ James Bond junior på hemmelig mission" fra 1967. Romanen er målrettet et yngre publikum og har ikke Agent 007 som hovedperson, men derimod hans nevø og navnebror, James Bond junior, som er kostskoledreng i England.
Handlingen følger den unge James' sommerferieeventyr som amatørdetektiv. Disse foregår omkring godset Hazeley Hall, der netop er blevet overtaget af en gruppe lyssky personager, som måske har forbindelse til et nyligt guldrøveri.
Ian Flemings eksekutorer, Glidrose Publications Ltd. (i dag Ian Fleming Publications Ltd.) autoriserede "003½ James Bond junior på hemmelig mission". Bogen må derfor regnes for et officielt, omend apokryft bidrag til rækken af James Bond-romaner. At flere af handlingens medvirkende – også uden for Bond-slægten – synes at kende til James' onkel, "den berømte James Bond 007", virker stærkt forstyrrende på læseren, al den stund at Agent 007 jo skal forestille at være hemmelig agent.
Ian Fleming beskrev desuden James Bond som værende enebarn, hvilket udelukker eksistensen af en nevø. Forfatteren John Pearson udstyrede dog James Bond med en storebror, Henry, i den fiktive biografi "Jeg er 007 James Bond" (James Bond: The Authorized Biography of 007, 1973; på dansk 1975).
● John Pearson: "Jeg er 007 James Bond" (1975)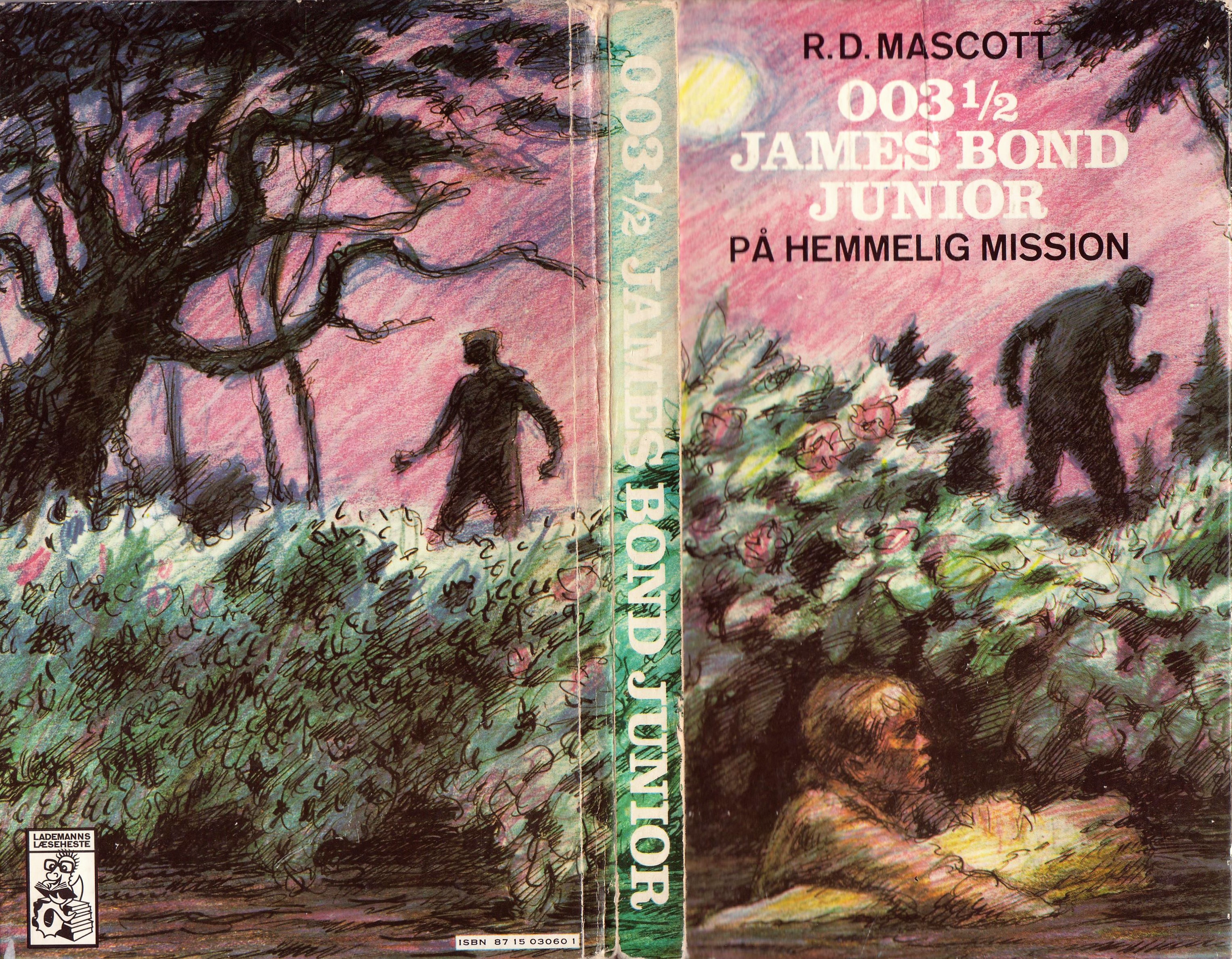 "003½ James Bond junior på hemmelig mission" udkom som hardcover i Storbritannien i 1967 og året efter i USA. Bogen er oversat til tysk (1969), fransk og dansk og er så vidt vides aldrig blevet genudgivet på disse sprog. Den danske udgave er desværre ikke illustreret, skønt de britiske, amerikanske og franske udgaver alle har forskellige illustrationer.
Romanen var krediteret til en vis "R.D. Mascott", hvis sande identitet i mange år var hemmeligholdt. I dag antages Arthur Calder-Marshall (1908-1992) for at være bogens forfatter. Der kom aldrig flere bøger i serien om 003½ James Bond junior.
Mange år senere optrådte en ny version af James Bonds nevø i tv-tegnefilmserien "James Bond Jr." (1991-92). Denne blev ledsaget af seks romaner og tolv tegneseriehæfter samt fire børnebøger skrevet specielt til det britiske marked. Konceptet om James Bond-eventyr for unge er senest benyttet i den igangværende romanserie "Young Bond" (2005-), hvor hovedpersonen dog er James Bond selv som teenager i 1930'ernes England.
Udenlandske udgaver af "003½ James Bond junior på hemmelig mission":
Bagsidetekst fra den engelske førsteudgave af "003½: The Adventures Of James Bond Junior" (1967):
The one person who never teased young James Bond about his famous uncle ('I think I'll call you 003 1/2,' joked his housemaster) was old Mrs. Frame of Hazeley Hall, the estate next to his parents' cottage. She gave him a key to her walled garden and the run of the bothy in it; it was to be a secret between them, and he was to keep his treasures and do as he pleased there. But then Mrs. Frame died during the summer term, and when James returned home, he found the whole place had been sold to an eccentric recluse, Mr. Merck. James's chance to recover his precious possessions comes when both his parents have to fly to Africa, leaving him in the care of Mrs. Raggles from the village.
Undeterred by Mr. Merck's wire fences and fierce dogs, he begins to trespass and makes an unexpected ally in his investigations–small, dirty, tow-headed shop-lifting Sheelagh. He soon finds out that very strange and sinister things are going on in Hazeley Hall.
… Could there be any connection between the recent bullion robbery and the odd activities at Hazeley Hall? If so, this is surely a matter for adult intervention: the police, Commander Conningtower of Naval Intelligence, the villagers. But they all have their own ludicrous, grown-up reasons for not wanting to be involved. So James is forced to struggle on alone. Soon he is caught up in a thrilling adventure which calls for the same brand of courage and resourcefulness that made his uncle famous.