Nummer 44/2015 af ugebladet "Anders And & Co.", som Forlaget Egmont udgav i Danmark den 29. oktober, indeholder en pudsig overraskelse til James Bond 007-fans.
Den italienske Disney-veteran Marco Rota har tegnet historien "Agent 00-And" (Double 00 Duck), hvor Anders And bliver hvervet som dobbeltgænger for superagenten Jens Blond.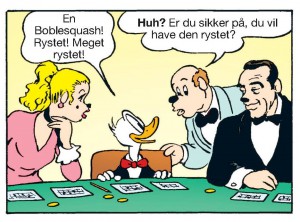 På sit agenteventyr i Monandko møder Anders flere figurer fra James Bond-filmenes univers: selveste Agent 007 (i Sean Connerys skikkelse), våbenmesteren Q (her "X"), den skurkagtige håndlanger Sære Bob med bowlerhatten samt SPEKTRUM-superskurken Ernst Stavre Glofeld og hans hvide kælemink.

Den nytegnede historie er skrevet af amerikanerne Carol & Pat McGreal og har verdenspremiere i det danske Anders And-blad. Ifølge Disney-eksperten Robert Johannes Rasmussen fra websitet Fiktion og Kultur vil historien også blive publiceret i Norge, Sverige, Finland og Tyskland.
"Anders And & Co." nr. 44/2015 kan købes i bladkiosker til og med i dag, onsdag den 4. november.